Black Widow, the newest movie in the Marvel Cinematic Universe, is here, and fans love it. But people also want to know how and where to watch this new action/superhero film. In other words, "When does Black Widow arrive on Disney Plus?" And, "How do I use DisneyPlus.com/OrderBlackWidow?" To make sure you can see Black Widow before all the spoilers attack, we've got all the answers for you right here. See the release dates, including the release date for when Black Widow will be free to watch on Disney Plus, AND how to watch on streaming with Disney+, Premier Access, and more!
Updated: October 2021

Black Widow Release Dates on Disney Plus
In case you're a little behind, you can watch all the Marvel movies in order and get caught up in no time by seeing the full chronological list here! (Well, not quite "no time", but you know what I mean.)
That being said, you're a fan of Marvel Studios movies, you're probably already caught up. Now, you're just itching to see the new hit Marvel blockbuster starring Scarlett Johansson, Florence Pugh, David Harbour, and Rachel Weisz, among many other great actors and actresses.
And, what's more, you are probably wondering yourself…
When will Black Widow be on Disney Plus? There are actually two answers to this question.
On the one hand, Disney often has a Disney+ release date for movies they offer for an extra purchase via Disney Plus Premier Access (see the full Premier Access guide here).
Then, Disney will "release" the movie a second time for everyone to watch that has a Disney+ free trial or subscription.
Because of all that, it's important to know which release date matters to you in particular.
Now to the question at hand…
When does Black Widow arrive on Disney Plus? The first release date on Disney+ was the same day the film came out in movie theaters, July 9, 2021, but that's for Premier Access only. The second release date is October 6, 2021, when the movie will be available to stream online on Disney+ for everyone with a subscription.
What time will Black Widow drop on Disney Plus? The Marvel movie Black Widow will drop on Disney+ on October 6, 2021, at midnight Eastern time in the United States.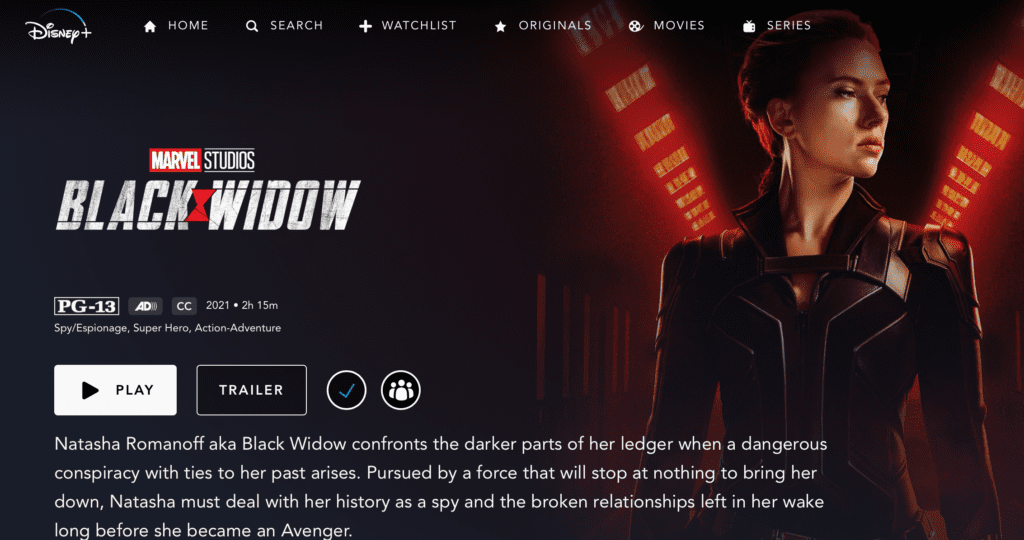 Here's a quick summary:
Note: "Free" does not mean you can watch without a subscription. It only means that it's included in a normal Disney+ subscription. AKA, you don't have to pay the extra Premier Access fee to stream the new movie.
How to Order Black Widow on Disney Plus at DisneyPlus.com/OrderBlackWidow
The second super important question regards how to actually watch Black Widow on Disney Plus.
Since the movie comes out on Premier Access first, how can you actually buy the movie to watch with your Disney+ subscription?
If you aren't familiar with Disney Plus Premier Access, you can read my Full Guide to Streaming Movies with Disney+ Premier Access here.
For those that want the shortcuts, here it is…
How do you order Black Widow on Disney Plus? Simply sign in to your Disney Plus account, click on Black Widow, then click on Unlock Now. Confirm that you want to purchase the movie and then click Play.
Check out the images below to walk you through it.
Step #1 — Sign in to your Disney+ account.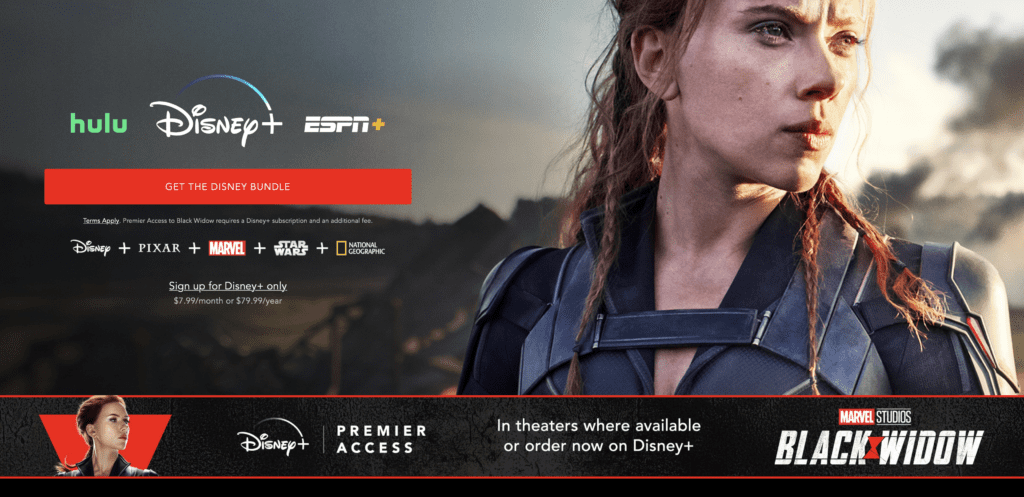 Step #2 — Click on Black Widow at the top of the screen.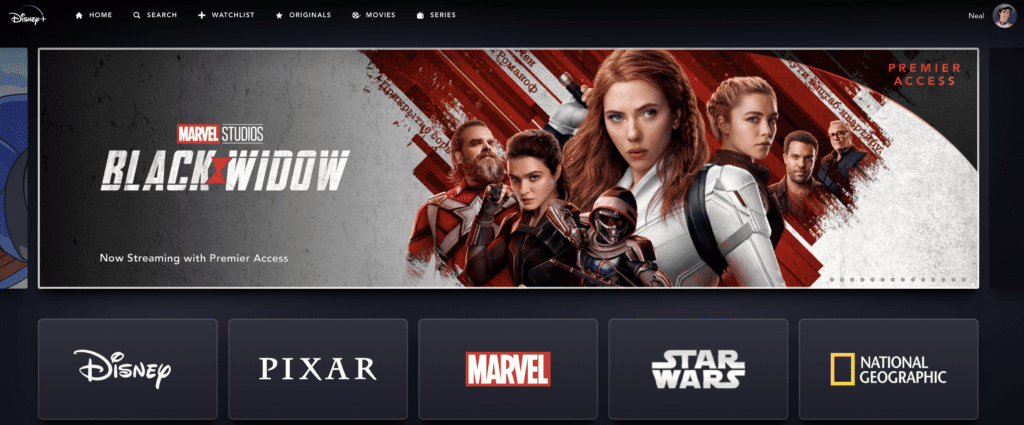 Step #3 — Click the red Unlock Now button on the left of the screen.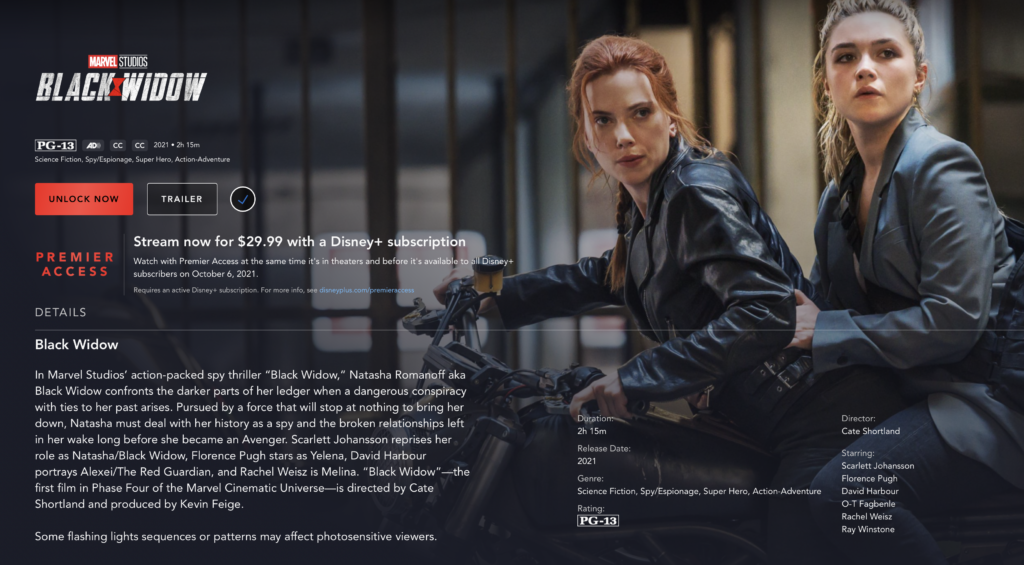 As an alternative, you can simply go straight to this website and order the movie right now: DisneyPlus.com/OrderBlackWidow.
And that's all there is to it!
If you have any questions, let me know in the comments.
Have a marvelous day!
Keep Reading
Disney Plus Premier Access: Movie List and How It Works
Share this post on your Facebook, Twitter, or Pinterest page with the easy share icons below.
Neal Tucker is one of the world's most engaging Disney influencers, with thousands of views and responses across his blog, podcast, and social media profiles every month.
Get started with more D Is For Disney content here