I love Disney, and I love games, so it comes as no surprise that I also love Disney board games.
Phones ands iPads are great for gaming. But when you've got a day off or a night in, there's nothing like a real Disney board game to bring the fun and magic home.
Sometimes you just need an OG board game with your own cardboard map and plastic character pieces that you can move around with your own hands…
If that's you (like me), and if you love Disney, then you are 1,000% in the right place.
Today, I'm going to look at the 11 must have Disney board games (and a few of the card variety) for adults, kids, and families alike, so that you can truly get into the world of Disney at home.
You can play these great games with your family and friends over and over again. And you will always find something new to enjoy and experience. I know I do!
Each one of these games is a curated selection, hand-picked, and most available on Amazon with Prime shipping. They are also all top-rated with at least 4+ stars and tons of ratings. Even better, they range across different films and properties in the Disney universe!
For the best in must-have Disney coloring books for adults too, look no further than right here. And if you want to get a few coloring sheets or pages for your kids for free, check out Buzz Lightyear here and Peter Pan here! There's something for everyone.
11 Essential Disney Board Games to Play at Home
The best fans get the best games. Check out all 11 essential Disney board games to play at home. Pictures, videos, and reviews. And Prime shipping! Plus, you know there's never been a better time to get back to basics.
Now, let the games begin!
Are you an old school game fan that loves Mickey Mouse and all the great Disney animated movies? Then you're in for a treat. Look no further than Monopoly: Disney Animation Edition.
That's right! Disney and Monopoly have teamed up to create a one-of-a-kind unique version of the classic board game.
This board comes with the following, straight from the official product page:
Celebrate the magic and memories of 80 years of Disney animation
Features Magic Mirror cards and Ariel's Treasure Chest cards
Features 6 tokens from different Disney films throughout the years
Includes special Mickey Mouse Sorcerer's Apprentice Hat token
Includes game board, 6 tokens, 28 Title Deed cards, 16 Magic Mirror cards, 16 Ariel's Treasure Chest cards, 32 houses, 12 hotels, 2 dice, money pack, and game guide
In other words, it's the whole world of Monopoly and the Disney animated movie vault in one! Watch the video below to get a sneak peek at the entire board game and what all it comes with inside the box.
Finally, here's what one happy Disney fan said about the game:
I bought this as a 29 year old Disney fan. I LOVE IT!!! I think the fact that it has all the old films up to the new ones is so incredible. The kids love playing it as well. Definitely fun for older and younger Disney fanatics!

5 Stars, Verified Purchase on Amazon
Do you have this Disney board game or one like it already? Let me know what you think of this game in the comments.
Are you looking for a more intense game battle with friends and family? Then you should check out Villainous.
This game has been flying off shelves since its release. It came out in 2019, the same year it won the prestigious "Game of the Year" Award from Toy of the Year.
The premise is simple, but the task is a real Disney challenge. You get to play your favorite villain from one of Disney's great animated films. As Ursula or Captain Hook or another dastardly villainous character, you battle your friends and family to come out on top, once and for all!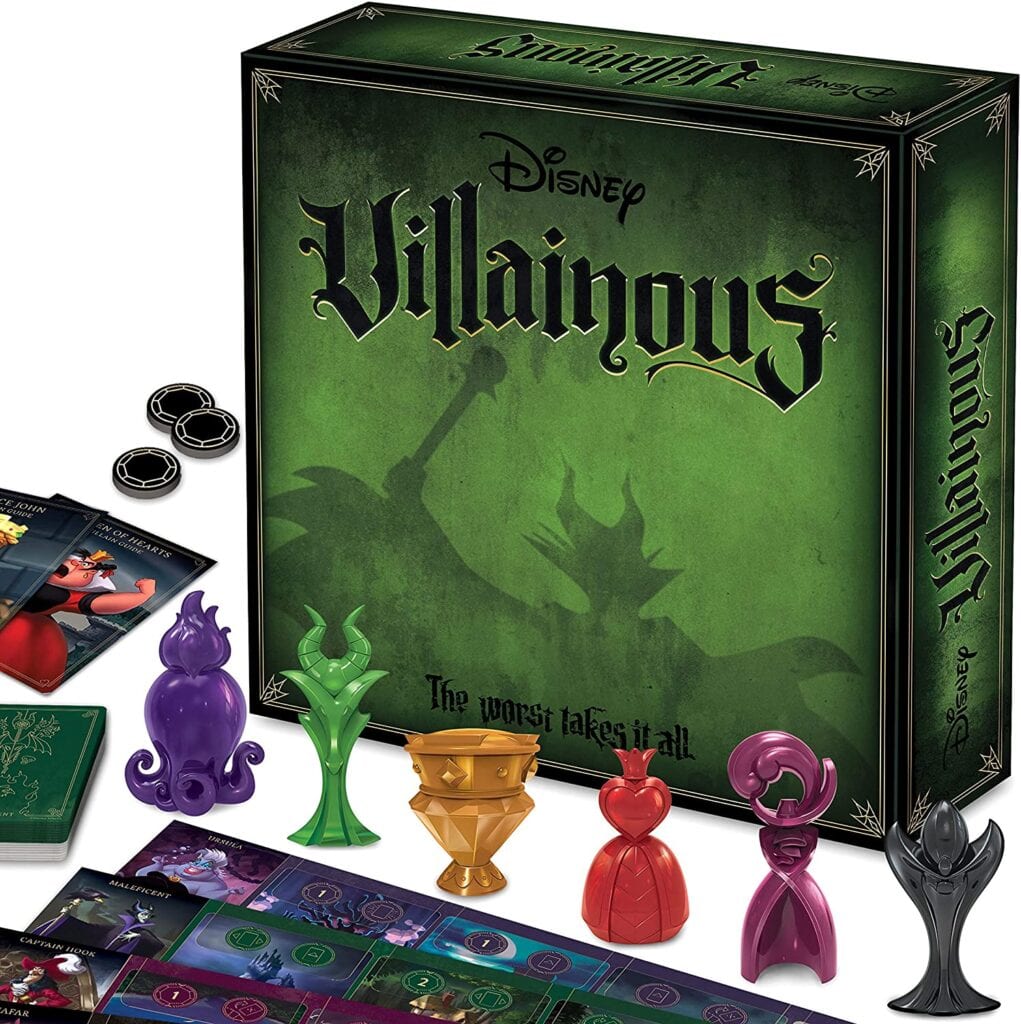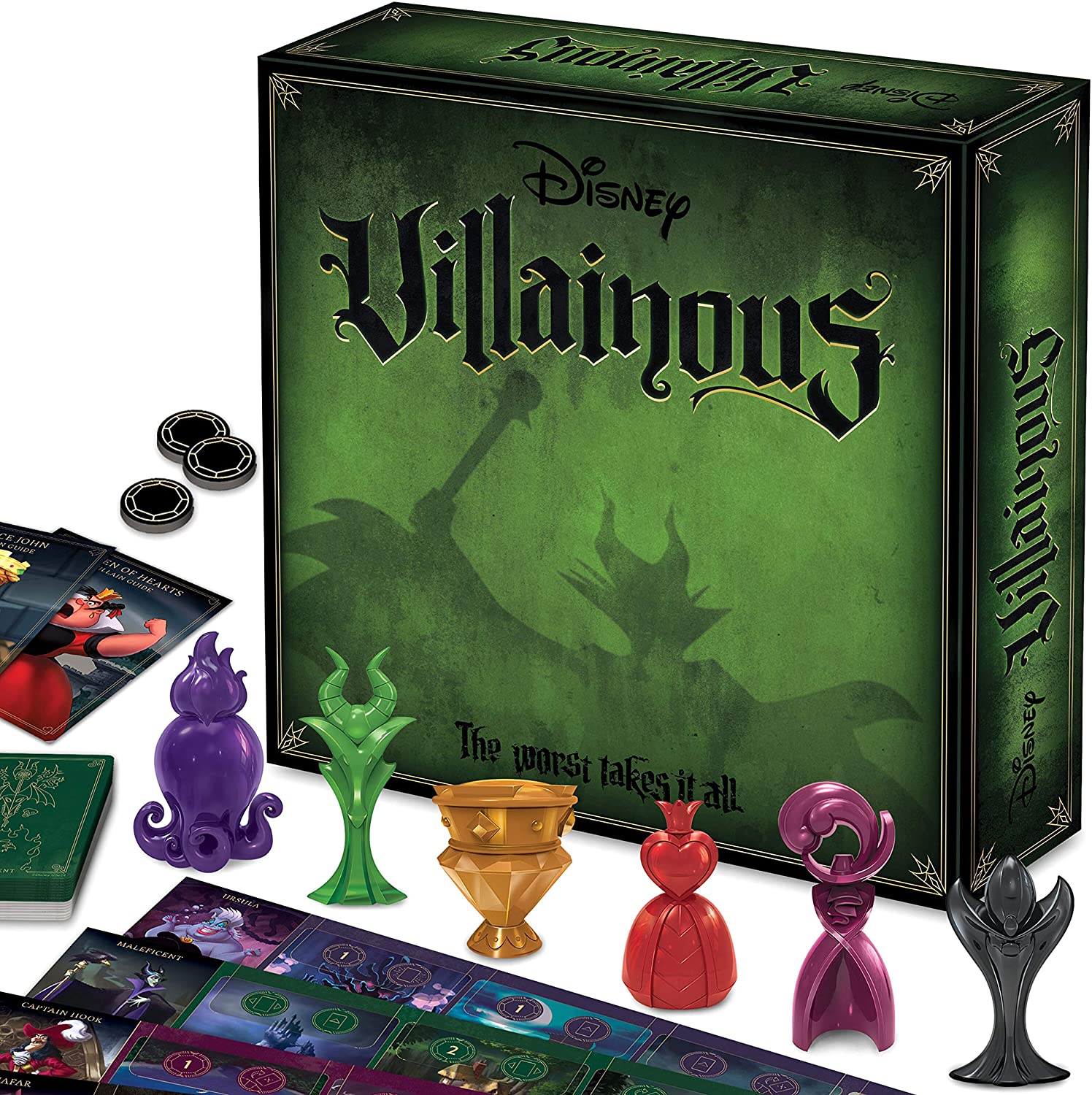 This high quality board game comes with a ton of cool cards, pieces, and other features. Here's what the official product page has to say:
Characters you love – In this asymmetric board game, choose from 6 iconic Disney Villains – each with their own sinister objectives & goals. Disney Villainous comes with Captain Hook, Maleficent, Jafar, Ursula, Queen of Hearts, and Prince John. The Fate Decks also feature your favorite protagonists like Aladdin, Peter Pan, Ariel, and more!
Great for Disney fans and families – Whether you're playing with a group of devoted Disney fans, classic strategy gamers, or with your family, Disney Villainous is perfect for any game night occasion and makes a great gift for Disney lovers!
Clear instructions – Easy to learn with clear instructions! Each of the 6 villains has their own guide, and these guides will inspire you with strategies and tips for crafting the most successful plan to win!
Compatibility – Disney Villainous can be played as a standalone game or with the other games in the Villainous line: Evil Comes Prepared, Wicked To The Core, and Perfectly Wretched.
2019 Game of the Year – Disney Villainous won the prestigious 'Game of the Year' Award at the 2019 TOTY Awards.
As if that's not enough to get diehard Disney fans excited, you can even get expansion packs that also play on their own.
In other words, if your fave bad guy or girl is missing, you can get the Evil Comes Prepared or Perfectly Wretched packs additionally or even in place of the original one.
Evil Comes Prepared features Scar, Ratigan, and Yzma as the key baddies. The good guys in this one are Mufasa, Simba, Pumbaa, Basil, Dr. Dawson, Olivia, Kuzco, Pacha, Kronk, and more.
Perfectly Wretched comes with the fan favorites of Cruella De Vil, Mother Gothel, and Pete. For the protagonists, you get Pongo, Perdita, Sergeant Tibbs, Rapunzel, Flynn Rider, Paschal, Steamboat Willie, Minnie Mouse, Donald Duck, and others.
So, if you're the villainous type, then this game is for you. For those friends and family members that want to play the good guys, they're covered too. It's truly a game for everyone.
Of course, you don't just take my word for it. Check out the unbox video and verified review below.
Watch this unboxing video to see every game board, piece, and instructions included in the main Villainous game.
Here's a verified review from the official product page:
I admittedly was drawn to this game because I love Disney, and who doesn't secretly root for the villains every now and then. But after playing this a few times, I can say that I really enjoy it! Each player chooses one of 6 villains from across the Disney spectrum, each with a unique card deck, win condition, realm board and strategy. However, there is a lot of balance to the game, where no character feels over powered or a "sure-win". I thought it was very cool that Ursula played completely different than Prince John, even though the components were the same.

The art is gorgeous, I love how each villain has a unique win condition, and most games were very close. There is a bit of a learning curve with new players, and the second playthrough is always more enjoyable than the first. Also the component pieces of the game feel a little cheap, but the game is almost half the price of a traditional big real ease. If you love board games and Disney, this is a no brainer. But even if you are not a fan of Disney there is still a lot to enjoy. Highly recommend!

5 Stars, Verified Purchase on Amazon
Ever played Cards Against Humanity? Then you already know how to play this one!
It's a version of that same game called Cards Against Disney. And it's just as fun as the original – perhaps even more so for us Disney fans…
IMPORTANT: This game is intended only for adults. Probably not a Disney game for "the whole family".
Here's how you play Cards Against Disney.
It's one person's turn, and they draw the main card. They read off the question or the sentence with the blank in it. Everybody else plays from the hand they're dealt, trying to grab the attention of the main person with a laugh or something. Each round ends with the primary person picking their favorite from the other players' cards. Again, it's the same rules as Cards Against Humanity, only with Disney themed cards.
Speaking of Disney themed playing cards, if you want to make your own game, get a deck of these Disney cards and play Solitaire, War, Go Fish, or anything else. Choose from Disney Princess, Winnie the Pooh, Star Wars, Haunted Mansion, or even Walt Disney World cards!
If you want an even more specific theme for your "Cards Against" game, try Cards Against Star Wars.
Here's what is included in the box, according to the official product page.
Contains 828 Cards 568 Red Cards, 260 White Cards,Red Box
Players can be 4 to over 20. Table game cards, party playing cards.
Age: 17+ only. Be ready to get asked some awkward questions
The game is strictly for adult players (17+) only, so trust me, you wouldn't want to take it out in any family gatherings.
Adult party game … suitable for players 4 to 20+ and play time 30 to 90 minutes.
Listen to this review from Amazon, plus watch the unboxing and review video.
I love cards against humanity, I also love Disney, this game is perfect for an adults game night and for the Disney fans who endlessly quote the films.

5 Stars, Jordan McGill, Verified Purchase
Do you love Cards Against Humanity and its variants, such as Cards Against Disney? Let me know in the comments.
Another great addition to the card game Disney space is Codenames. Again, it follows the same familiar format as other Codenames card games. So if you've played those, then you already know how to play.
Here's the rules for CODENAMES, Disney Family Edition.
In my experience, this game is usually played in teams of 2. So let's just say you have two teams of 2 players on each side. The teams have someone that knows and someone that guesses. Using the cards that are all laid out on the table, the "knower" gives the "guesser" on their team a clue. The guesser has to name the Disney cards on the table that match that clue.
That's a very abbreviated version of how to play, but it gives you a sense of how simple and quick it is to play.
My wife and I love Codenames. It's a great double-date game night sort of thing. But it can also be played with parents and children, roommates, and really anybody that loves card games and Disney.
To see what's included as well as how it's played in more detail, watch the video below.
Hear how much fun it is from a reviewer online as well.
It's well made just like the original code names but with the best twist – Disney! Game play is exactly the same as the original. I do like that one side of the card is the word, and the other is the picture, so you can play different ways by how you lay the cards. It spans in Disney characters from the old school Huey, Dewey, and Louie or Snow White to the most recent movies like Moana and Monsters Inc. It also comes with a layout for 4 x 4 instead of 5 x 5, which I'm guessing is to make it easier for a younger audience. Absolutely a must have for any Disney fan.

5 Stars, H. Urig, Verified Purchase
Have you played Codenames Disney Edition? Let me know what you think!
Alright, let's get back to some games that have a board involved. This one is based on the popular Toy Story franchise. Don't worry, not too many of Sid's toys are involved! 😉
Given its layout and game type, it's really somewhere in between a traditional board game and a pure card game.
According to the main page, "Players work together as their favorite Disney Pixar Toy Story characters from across Pixar Toy Story to enlist the help of Friends, conquer Hazards, and complete Adventures before the bad guys can alter the end of the story in TOY STORY OBSTACLES & ADVENTURES – A Cooperative Deck-Building Game."
Here's how you play Toy Story the Game.
For the basics, it allows for play from 2-5 players. Ages 8+ and up can play, according to the box. And game play time lasts roughly anywhere between 30-90+ minutes.
Here's what's included and a bit of an overview from the official product page.
HOWDY PARTNER – Welcome to Disney Pixar Toy Story Obstacles & Adventures, the cooperative deck-building game that brings the world of Toy Story to life! Play as your favorite characters from the films – Sheriff Woody, Buzz Lightyear, Jesse, Rex and Bo Peep.
TO INFINITY, AND BEYOND – This family board game features artwork, characters, obstacles, and adventures from across all the Toy Story movies and television films – Toy Story, Toy Story 2, Toy Story 3, Toy Story 4, Toy Story of Terror!, and Toy Story That Time Forgot.
THERE'S A SNAKE IN MY BOOT – Watch out for the hazards and obstacles that try and end playtime. While the toys may be cute, don't let them deceive you as there are serious challenges along the way.
YOU'VE GOT A FRIEND IN ME – Work together in this cooperative group game as you build your deck and move along the 6 sequential games that build on their level of difficulty
Curious what a game like this looks like? Take a look at the photos below. There's pictures of the cards, the board, and everything else that's included in the box as well.
For a little sneak peek at the game being played itself, check out these gameplay pictures. As you can see, it's great for a whole family to play together. Game night has it's next winner, I think…
For a personal take, here's a quote from a person that really loves the game and thinks you should, too!
What a great way to relive the fun of the movies! We've been playing with young children and it has been a blast! Takes a few minutes to set up initially and understand the rules/layout, but after that it runs smoothly and quickly. 45-75 minutes per session. Everyone always asks if we can play "just one more."

5 Stars, Shawn M Espinosa, Amazon
To see a little more of what it looks like, watch this full unboxing video below. It gives you a great sense of what to expect as you get this game out of the box.
Let me know if you decide to get your own copy of this game. As a huge fan of the Toy Story movies and characters, I can't really imagine a better board game version of it.
Here's a Disney version of an all-time classic game. Chess!
Personally, I love the game of chess. As a massive Mickey Mouse fan, I also love this particular version. Talk about high quality. Nobody does it like Disney.
There's not a lot to explain on this one regarding how to play it. Chess instruction exists all over the internet, so I won't belabor the point here.
Instead, I'll just tell you the characters you get, and then show you a bunch of awesome pictures that give you a sense of how freaking cool this chess set looks.
Here are the characters included as chess pieces: Mickey Mouse, Minnie Mouse, Donald Duck, Daisy, Pete and Goofy, Pluto and Figaro, Chip and Dale. See the photos below for comparison between the black chess pieces and the white chess pieces.
Here's a quick video to show you what it looks like in person as well. As you can see clearly in the video, this is super high quality. For chess lovers of the world that also love Mickey Mouse and Disney, this is the perfect game set.
Finally, read what a very happy chess player and Mickey fan has to say about this Mickey Mouse chess set:
Awesome Mickey Mouse chess set commemorating Mickey Mouse's 90th Birthday celebration!!!!

5 Stars, Verified Purchase
Chess lovers of the world, what do you think? Let me know how your next chess match goes with this Mickey Mouse commemorative edition chess set.
Frozen and Frozen 2 have taken the world by storm, which is one reason this game set is so great. But it's also awesome for people on a budget that want to get as much bang for your buck as possible.
With the Frozen 6 in 1 Game House set, you don't only get 1 game. You get 6 games! And you don't only get cards or a board. You get both cards and a board!
What 6 games do you get in this Frozen 2 set?
You get all of these great and classic games: Checkers, Go Fish, Rummy, Dominoes, Memory Match, and Snakes & Ladders (Leaves and Snowflakes in this version).
Again, since these are well-known games, I won't go into the instructions or details for how they're played.
I'll just say that if you love these tried and true classics and the Frozen and Frozen 2 movies and characters, then you're literally all set.
From the words of a happy mom, check out this review:
I bought this for my eight year old daughter. I recently taught her to play checkers, she loves Frozen, so I thought she would like it. SHE LOVED IT! We played dozens of games. It even has Dominoes, Frozen style. I taught my daughter to play and we played that a bunch of times as well. … The best part is that the board is a compartment that stores all the games inside. Super light weight, easy to transport.

5 Stars, Verified Purchase
That's right! I said 7 essential Disney board games, but I've got a BONUS 8th board game just for you.
UPDATE: I personally pre-ordered this board game, and we got ours right on time the first week of June. An unboxing and gameplay video will be coming soon.
Now, at the time of writing this article, this game is NOT out yet. But there's good news. It's coming out in just a couple of weeks, so I will update as soon as it's available.
The skinny is this… Disney is releasing a brand new board game called the Jungle Cruise Adventure Game.
As a massive fan of the Jungle Cruise ride at Disneyland, I can tell you that I'm looking forward to this one. In fact, just last week I bought the storybook version of the ride just to have a little taste of it at home. It also comes with a CD for you to really immerse yourself in the backside of water (a little Disney parks inside joke for those that know).
We don't know what the gameplay feels like quite yet. That being said, we do know what it looks like. Check out the pictures below to see this all-new Jungle Cruise board game.
I think it looks AMAZING. And I can't wait to get my hands on our box as soon as it comes out. Expect an unboxing video on my YouTube channel when mine arrives the first week of June.
Are you a big Jungle Cruise fan hoping to get this game too? Check it out on Amazon where it's available now for order with free Prime shipping.
What other Disney board games or Disney card games do you like to play? Let me know in the comments or on social media @disfordisney_.
In case you missed it, I've also got a free Disney coloring book available for anyone that subscribes to my Magic Mail newsletter.
Have a magical day! 🙂