The Toy Story franchise was something we cherished as Disney-loving kids, and its TV special Toy Story That Time Forgot brings us back to our childhood. Let the Battleopolis begin!
It is no question that avid Disney fans loved Toy Story as kids – and even as adults. The franchise was so successful that it released four movies with the latest being Toy Story 4 in 2019, spin-off shows, and a bunch of short features.
Among these features is Toy Story That Time Forgot, a fun and interesting story that follows our gang on a new Battleopolis style adventure.
What happens in Toy Story That Time Forgot? Why should we watch it? In this special, our favorite characters get in trouble… again. We also meet a new set (and breed) of interesting characters.
Let's take a look at what makes this production great and check out some awesome toys too while we're at it!
What Is Toy Story That Time Forgot in Battleopolis?
Toy Story That Time Forgot in Battleopolis is a television special produced by Walt Disney Television Animation and Pixar Animation Studios based on the Toy Story franchise. With an episode running time of 22 minutes, the feature was aired on ABC on December 2, 2014.
It follows Toy Story duo Woody and Buzz Lightyear, together with their toy friends, in one of their misadventures.
The TV special was a success with 3.27 million viewers on Disney Channel. Disney said it was the channel's most-watched airing that night.
This does not come as a surprise because the people behind it were established names in the industry.
Comic book creator and video game auteur Steve Purcell wrote and directed the feature while Galyn Susman produced it. Both have worked together on successful animated Disney/Pixar films, such as Brave and Ratatouille.
Michael Giacchino was in-charge of composing music (he's one of my favorites!). He has won several awards for his works which include The Incredibles, Inside Out, and Coco.
Have you seen this special? Watch this teaser to give you a peek of their escapade.
Toy Story That Time Forgot in Battleopolis: Plot Summary
The story happens after Christmas when Bonnie visits her best friend Mason for a playdate. She brings with her Woody, Buzz, Trixie, Rex, and a Christmas ornament named Angel Kitty.
The little girl leaves her toys in Mason's playroom so she can play video games with him.
There they see Mason's Battlesaurs who live in Battleopolis – a prehistoric-themed playset given to Mason as a holiday gift.
The Battlesaurs are a group of dinosaur humanoid toys led by warrior Reptillus Maximus and their spiritual leader The Cleric.
Welcome To Battleopolis!
As a triceratops, Trixie is happy to finally act like a dinosaur. This is because Bonnie rarely lets her be one during their play sessions.
The Battlesaurs dress her up as a warrior together with her other dinosaur friend Rex. What the two dinosaurs don't know is that Woody and Buzz were taken as captives.
Trixie then finds out that the Battlesaurs were attacking Mason's other toys in the arena.
This led to the discovery that, just like Buzz in the first movie, the Battlesaurs did not know they were toys. Mason has not played with them since he received the gift, which helps explain why.
Shock envelopes Trixie when she sees Woody and Buzz brought into the arena to fight. She defends them and gets disowned by The Cleric and the group because of Bonnie's name written on her foot.
Call For Help in Battleopolis
Trixie rushes to Bonnie to ask for help and Reptillus goes after her. To let him realize the truth that he's an action figure, she shows him his packaging. He gets angry instead.
Meanwhile in the playroom, the Cleric uses Rex and his robotic armor to fight Woody and Buzz.
Here's a plot twist: The Cleric knew about the existence of Mason and how they were just toys all along!
While Mason is away, the Cleric becomes the ruler of the Battlesaurs and in effect, the entire playroom. He works on his plan of throwing Woody, Buzz, and Angel Kitty to the air vent.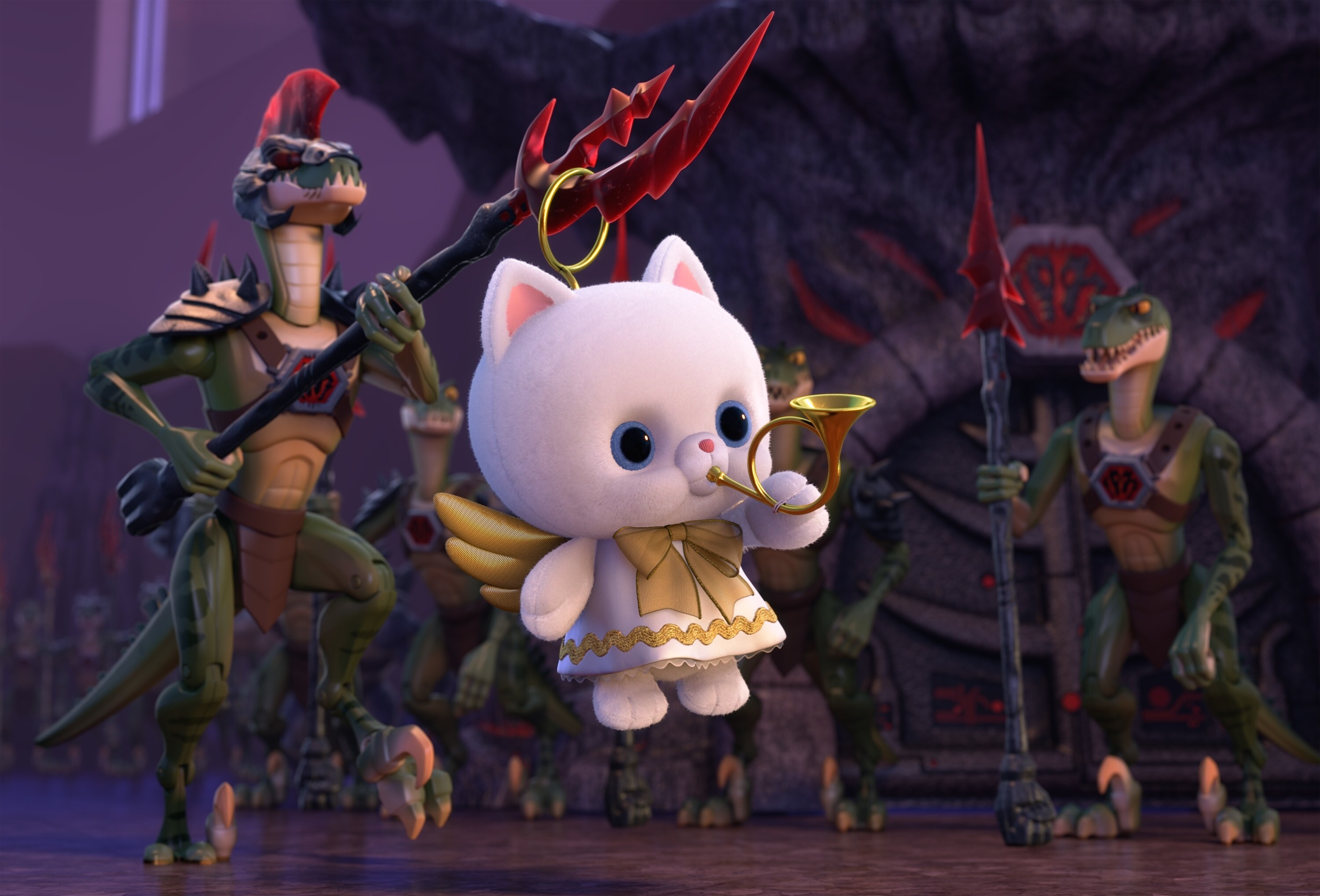 In the other room. Trixie almost succeeds in turning off Mason's video game to catch his attention. Reptillus tries to stop her and she talks to him about the benefits of being a toy.
Much to Trixie's relief, Reptillus gives in and he stops Mason's game. The little kids then notice the two dinosaurs. Trixie plays with Reptillus, and Mason, realizing how fun playing with his toys was, soon follows her.
The Kids Save The Day
Mason and Bonnie go to the playroom to continue their playdate. Little do they know, their return stopped The Cleric's plan and they saved Woody and Buzz.
They play with the Battleopolis Battlesaurs and Mason's other toys. The dinosaur group finally embraces their status as toys, with Reptillus calling it "glorious."
After playing, Bonnie and her toys go home. Her other toys ask the gang how their playdate went. Mr. Potato asks Trixie if she has found a role that suits her.
Trixie replies with, "I'm Bonnie's dinosaur and Bonnie's dinosaur gets to be everything."
The credits show Reptillus with Mason's name on his hand. The Battleopolis Battlesaurs leader is excited to see Trixia on their owners' next playdate the next week.
And all the toys lived happily ever after!
Toy Story That Time Forgot / Battleopolis Characters
In Toy Story That Time Forgot, we see some familiar faces and meet new characters from Battleopolis, too.
Bonnie's Toys
Trixie – A female Triceratops, Trixie serves as the hero in this adventure.
Woody – This cowboy doll is a mainstay in the Toy Story franchise.
Buzz Lightyear – The Space Ranger action figure is also a main character in the Toy Story universe and is Woody's close friend.
Rex – Bonnie's Tyrannosaurus rex is a nice dinosaur, which the Battleopolis Battlesaurs use against Woody and Buzz.
Angel Kitty – The Christmas ornament is a cat with angel wings, thus, her name.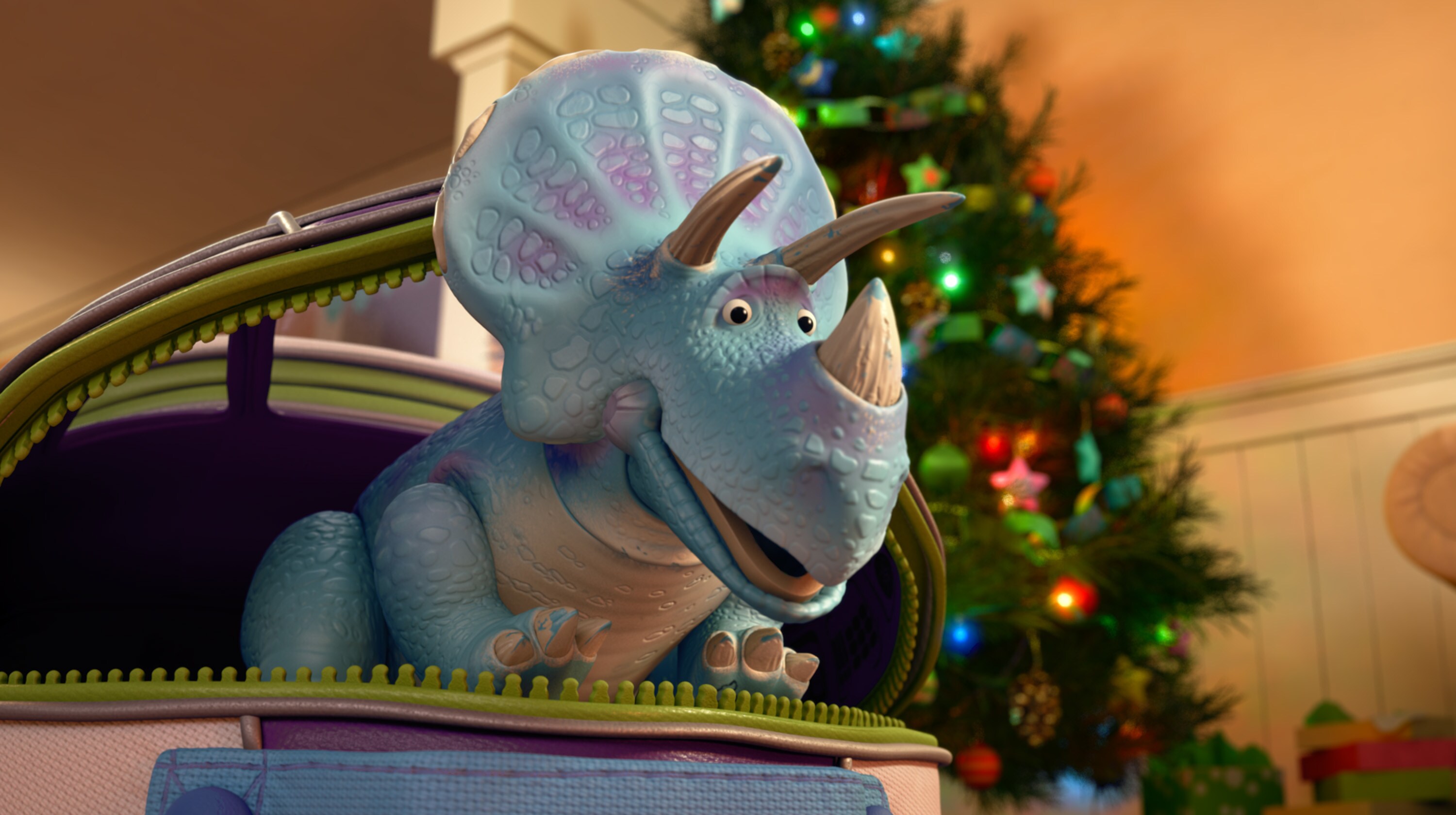 Mason's Toys
Reptillus Maximus – Known as Reptillus, he is an anthropomorphic Tyrannosaurus and is the leader of the Battlesaurs army.
The Cleric – The spiritual leader of the Battlesaurs acts as their head. He is the only one aware of their status as toys.
Ray-Gon – This blue anthropomorphic Scelidosaurus is in-charge of equipping the Battlesaurs with weapons and armors.
Battlesaurs from Battleopolis – A community of dinosaur humanoid toys, the Battlesaurs were not aware at first that they were toys. They believed they were humanoids and acted as such.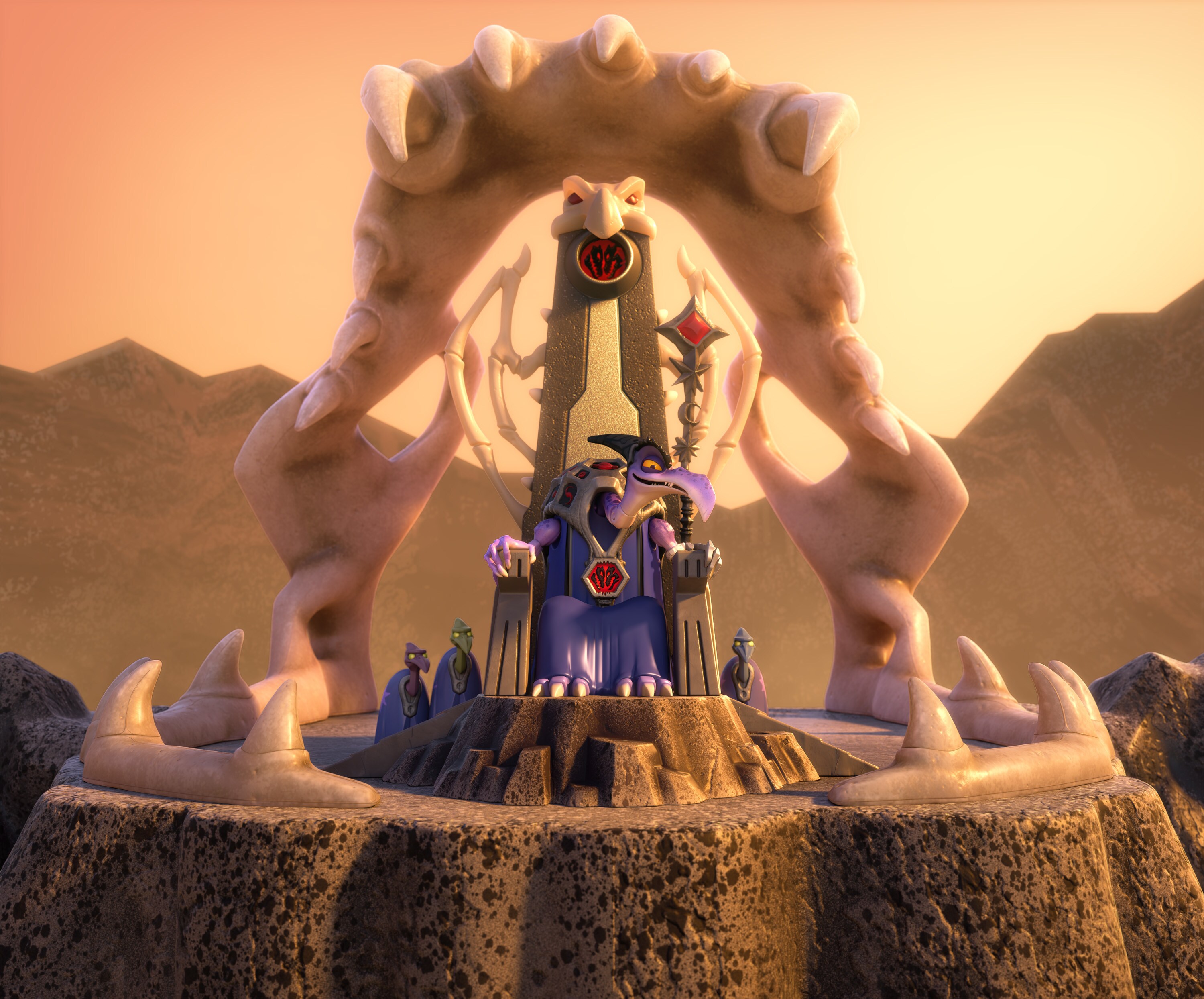 5 Interesting Facts About Toy Story That Time Forgot and Battleopolis
Check out these interesting trivia about the TV special.
Toy Story That Time Forgot is the second TV special of the Toy Story franchise. The first is Toy Story of Terror!
This is the last Toy Story project that Don Rickles participated in as Mr. Potato before he passed away in April 2017.
The Battlesaurs not knowing they are toys is similar to Buzz Lightyear's dilemma in the first Toy Story film.
In the special, you can find toys that are strikingly similar to characters and elements in other Disney Pixar films such as Cars and Up. Try to spot Tractor!
Toy Story That Time Forgot in Battleopolis was released on Blu-ray and DVD in November 2015. You can watch special clips and behind-the-scene footage in these materials.
Did You Know That Toy Story That Time Forgot in Battleopolis Was Supposed To Be Only Six Minutes Long?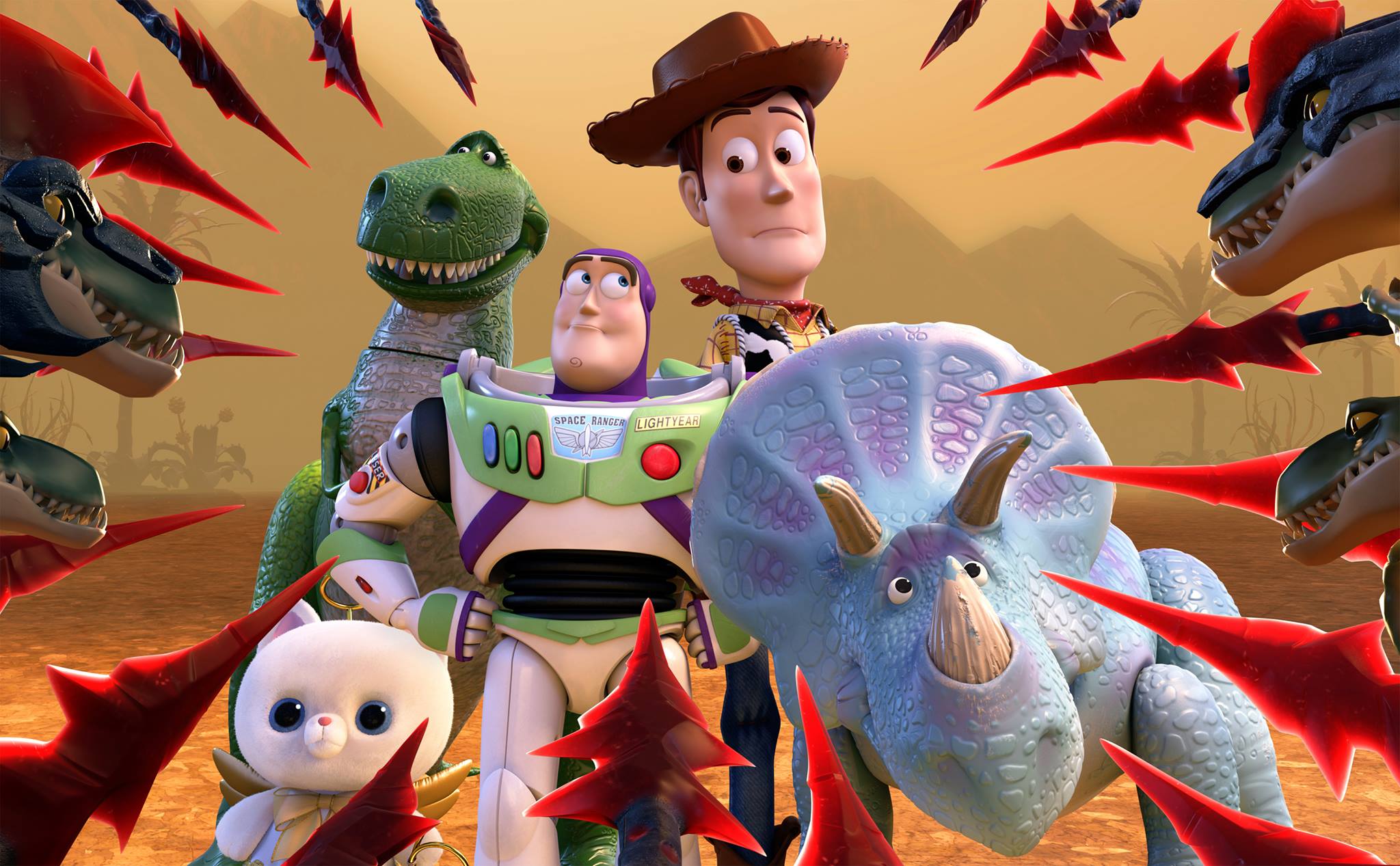 Disney originally planned to make Toy Story That Time Forgot a quick feature that is only six minutes long.
However, Disney executive John Lasseter found the story interesting. He asked the team to make it a Christmas treat to Disney fans instead.
The Disney and Pixar team worked on this feature for three years. They spent the first two years perfecting the story.
To make the Battlesaurs as real-looking toys as possible, the dedicated team worked day and night.
Their hard work definitely paid off because not only did we love the feature, its official toyline also became a hit!
Toy Story That Time Forgot Battleopolis Toy Pack Collections
What's Toy Story without actual toys? Disney released a toy collection based on Toy Story That Time Forgot.
Here are some great toys from the TV special.
Trixie Battleopolis Figure
If you love our little Triceratops heroine, you will love this toy too.
This figure of Trixie comes with different weapons to choose from.
Another great dino-toy!
Check out the Battleopolis version of our good dinosaur buddy, Rex.
Our Space Ranger hero has his Battleopolis outfit too.
This Buzz Lighyear figure comes with accessories that you can use to fight Battlesaurs.
Everyone's favorite cowboy also has a Battleopolis figure.
With his weapon accessories, Woody is ready to face the Battlesaurs.
Buzz, The Cleric And Reptillus Battleopolis Three-Figure Pack
This three-figure pack features our favorite Buzz Lightyear in battle armor, plus Battlesaurs Reptillus Maximus, and The Cleric.
This toy set is great because you get three fun characters from the TV special in Battleopolis!
Do you like building weapons like Battleopolis' Ray-Gon and give words of wisdom like Angel Kitty?
Then this two-figure pack is for you!
You get both the genius Ray-Gon, as well as the wise Angel Kitty.
Toy Story That Time Forgot Battleopolis: A Disney Pixar Treat
Toy Story That Time Forgot Battleopolis, just like all the other Toy Story projects, gives us a glimpse into the lives of our childhood best friends – our toys.
We get to see our favorite characters in another crazy adventure and meet new toy characters too.
Watch Toy Story That Time Forgot in Battleopolis right here to bring back childhood memories and buy their toys too for the ultimate throwback experience!
For more great Toy Story trivia, read up on all the intriguing toys from Sid's room in the first Toy Story!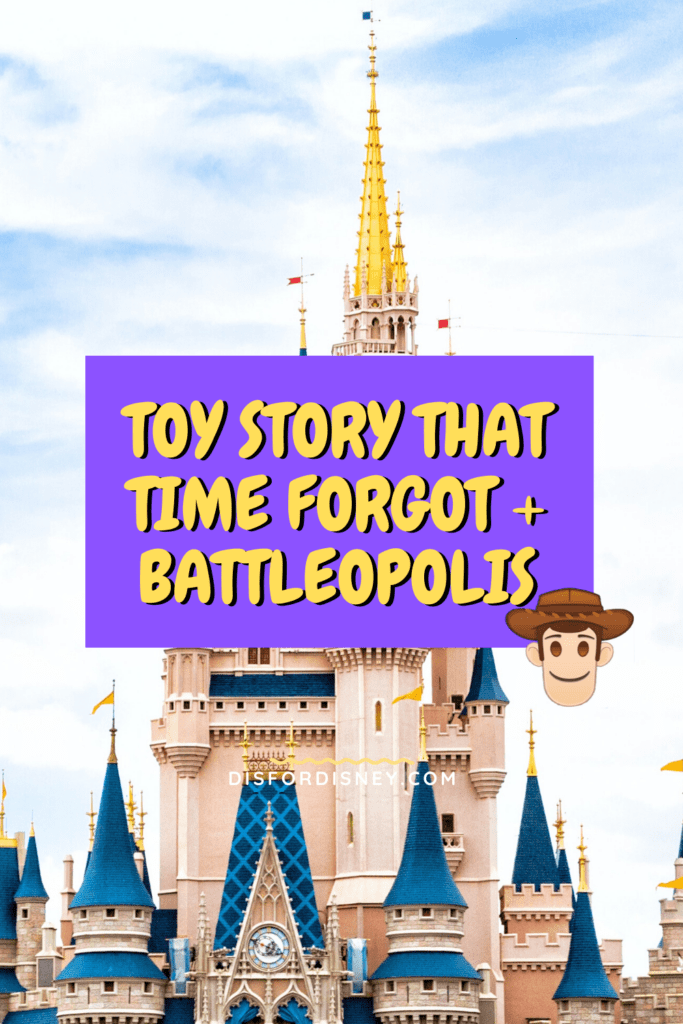 Share this post on your Facebook, Twitter, or Pinterest page with the easy share icons below.
Neal Tucker is one of the world's most engaging Disney influencers, with thousands of views and responses across his blog, podcast, and social media profiles every month.
Get started with more D Is For Disney content here