It's that time again… For another amazing Disney recreation and reimagining of a classic Disney villain. Following the fun Maleficent films, we now get a brand new origin story: Cruella de Vil from 101 Dalmatians (one of my personal all-time favorite Disney movies, actually). The new Cruella poster just dropped, and now the trailer is out too! Read on for the poster, trailer, release date, Disney Plus details, and more!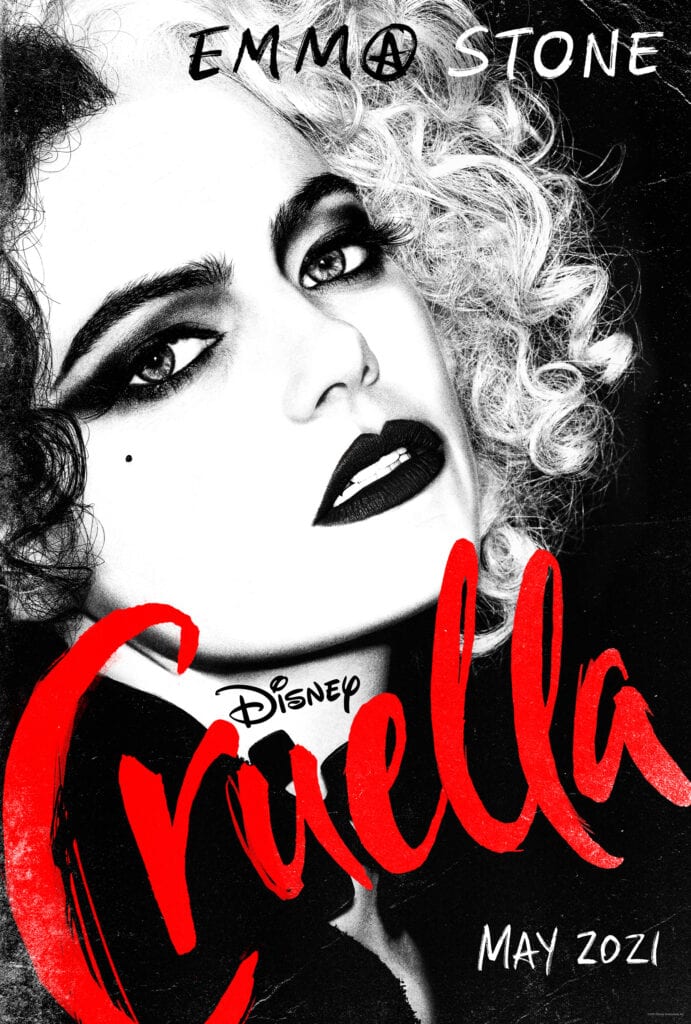 For a quick refresher of the other 101 Dalmatians movies and versions of Cruella de Vil, take a look at this post from @filmthusiast below.
Disney's Cruella Poster
In case you missed it…
Disney released an EPIC new Cruella poster for the brand new movie coming out later this year.
Check it out right here:
Hello, Cruel World. New Trailer Tomorrow. pic.twitter.com/oAFK0epmbB

— Walt Disney Studios (@DisneyStudios) February 16, 2021
Plus, there's this great alternate poster featuring Emma Stone as well, which I think is just as epic and amazing.
I'm just getting started, darling 🖤 pic.twitter.com/5V8XpAPlf0

— Walt Disney Studios (@DisneyStudios) February 17, 2021
Both so awesome, right?!
Which one is your personal favorite of the 2 Cruella posters so far? Let me know in the comments section below or on social media!
NEW Disney Cruella Trailer (2021)
No more waiting!
It's finally time to watch the new Walt Disney Studios CRUELLA trailer.
Get ready. It's awesome.
Brand New Cruella Production Photos
If that's enough…
Then you should check out these awesome production stills from the set of Cruella.
Each photo shows new angles of the actress Emma Stone playing the legendary and iconic Disney villain Cruella de Vil.
Check out the all-new photos of Emma Stone as #Cruella and watch the full trailer online now; https://t.co/p4Xb7Df88H pic.twitter.com/S1Tc6VlyhN

— Walt Disney Studios (@DisneyStudios) February 17, 2021
Cruella Release Date and Disney Plus Info
The next big question, of course, is about the release of this exciting new movie from Walt Disney Studios.
In other words…
When does the new Cruella movie come out? May 28, 2021 is release date for the new Disney Cruella movie.
Secondly, people also want to know where they will be able to watch the Cruella movie when it does come out on May 28th, 2021.
AKA…
Is Cruella on Disney Plus? Right now, we do not know for sure if the new Disney Cruella movie will come out on Disney+. There's always a chance that they put it straight on the streaming platform, like they have with Mulan and Soul, and the upcoming Raya and the Last Dragon. If it does, it might be through Disney Plus Premier Access, meaning it will be an extra purchase on top of the subscription price (and let's be honest, it's 100% #WORTHIT).
Wrap Up and Thoughts
For now, that's pretty much all we know about the new Disney Cruella trailer, movie, release date, and more.
That being said, people are already comparing the film to Joker and Harley Quinn from the Batman universe, which I personally thought as I was watching as well.
On social media, fans are making comparisons with film side-by-sides, like below.
What do you think? Is that a good comparison? Let me know in the comments section below!
Check back for more exciting details in the coming weeks and months.
Have a magical day!
Keep Reading
How to Check If Disney+ Is Down Right Now *(Quick and Easy!)*
Share this post on your Facebook, Twitter, or Pinterest page with the easy share icons below.
Neal Tucker is one of the world's most engaging Disney influencers, with thousands of views and responses across his blog, podcast, and social media profiles every month.
Get started with more D Is For Disney content here