Is Spiderman on Disney Plus? This is a question that fans of the Marvel Avengers movies and upcoming TV shows have asked quite a lot. Another question is this, "Will Spider-Man: No Way Home be on Disney Plus?" Here's the answer to whether Spiderman is on Disney Plus.
[FULLY UPDATED FOR SPIDER-MAN: NO WAY HOME]
Note: If you're looking for how to watch all 23 Marvel movies in chronological story order, check out our guide here. It includes all of the Spider-Man movies. Plus, there's 2 FREE downloadable graphics to keep track of your progress.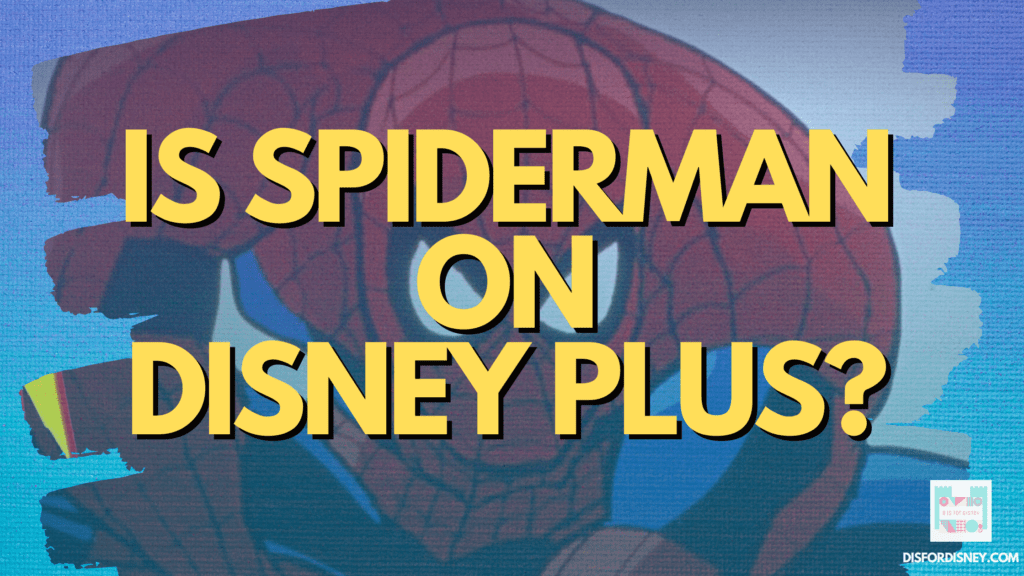 Is Spiderman on Disney Plus?
With the launch of Disney+, so many of the amazing and beloved Marvel movies have been released on the streaming platform.

Fans can now see Ironman, Captain Marvel, Captain America, the Guardians of the Galaxy, the Avengers, and so many more of our favorites right from home in the Disney Plus app.
Along with these great stories, people want to know, "Is Spiderman on Disney Plus?"
By this, most people are referring to the movies, and not any of the Spider-Man TV show series that might be available.
Even so, I'm going to make sure to answer both questions: Spiderman films and Spiderman TV shows.
So, let's start with the movies…
So Is Spiderman on Disney Plus?
The Spider-Man Films on Disney Plus
As of 2023, Disney Plus boasts five Spider-Man films and one Venom film in its U.S. library:
Spider-Man (2002)
Spider-Man 2 (2004)
Spider-Man 3 (2007)
The Amazing Spider-Man (2012)
Spider-Man: Homecoming (2017)
Venom (2018)
These films' arrival on Disney Plus is a result of a multi-year content licensing agreement between Disney and Sony Pictures, finalized in April 2022. This deal sees Sony films released from 2022 through 2026 eventually reaching Disney platforms, following their Pay 1 window.
This means each film hits theaters first, followed by paid rentals and purchases, streams on Netflix, and finally arrives on Disney platforms, possibly including Disney Plus.
Spiderman TV Shows on Disney Plus
Okay, but what about all the Spider-Man TV shows…
Are Spiderman TV shows on Disney Plus? Yes! If you are looking for Spider-Man on Disney Plus, you will find several of his classic TV shows available to stream right now. Seven, to be exact! Including Marvel's Ultimate Spider-Man and Spider-Man Unlimited.

The Spider-Man Films Missing from Disney Plus
Despite the licensing agreement, some Spider-Man films are conspicuously absent from Disney Plus:
The Amazing Spider-Man 2 (2014)
Spider-Man: Into the Spider-Verse (2018)
Spider-Man: Far from Home (2019)
Spider-Man: No Way Home (2021)
The above films are currently available to watch on other platforms such as Starz and DirecTV.
The Spider-Man Universe: A Tangled Web
The Spider-Man films' distribution rights, despite being a Marvel character, rest with Sony Pictures, not Disney. This unique circumstance arose in 1999 when Marvel Comics, facing financial difficulties, sold the Spider-Man film rights to Sony for $7 million.
This move resulted in a multi-billion dollar franchise for Sony, with films starring Tobey Maguire and Andrew Garfield becoming monumental box office successes.
In 2015, Disney and Sony agreed to allow Spider-Man to appear in the Marvel Cinematic Universe (MCU).
This agreement, renewed in 2019 and believed to have lasted until 2021, meant that Marvel Studios could produce MCU-set Spider-Man films, and Sony would distribute them. Thus, Spider-Man became part of both the MCU and Sony's Spider-Man Universe (SSMU), leading to a complex web of distribution rights.
The Future of Spider-Man on Disney Plus
An official Sony press release hinted that "additional titles" would join the Disney Plus library "later this year."
Fans are hoping this means the remaining Spider-Man films will soon be available on the platform.
With Spider-Man: Homecoming already on Disney Plus and the web-slinger's deep connection to the MCU, it seems likely that Far From Home and No Way Home could soon join the service.
The long-awaited arrival of Spider-Man: Into the Spider-Verse on Disney Plus would also make sense, especially with its upcoming sequel, Across the Spider-Verse, on the horizon.
Additionally, with Venom on Disney Plus, it's only a matter of time before its sequel, Venom Let There Be Carnage, join the platform.
The Bottom Line
The distribution rights of Spider-Man films are a tangled web, much like the hero's own adventures.
Sony's control over the film rights has led to a complex distribution landscape, with some movies appearing on Disney Plus and others remaining noticeably absent.
However, as Sony and Disney continue to collaborate, we can expect more Spider-Man films to eventually swing onto Disney Plus.
The arrival of these films will undoubtedly be a moment of celebration for Spider-Man fans and Disney Plus subscribers alike. Until then, we'll keep our Spider-Sense tingling for any updates on the web-slinger's Disney Plus future!
The good news is that we can still watch the Spider-Man animated series on Disney+! Just thwip and swing on over to Disney Plus, and search for Marvel or Spider-Man to see the full list.
Of course, you can also get your own copy of Spider-Man: Homecoming and Spider-Man: Far from Home to watch whenever you want!
I hope this helps to answer some of your questions, especially, "Is Spiderman on Disney Plus?"
Follow on Twitter and Instagram @disfordisney_.
Share this post on your Facebook, Twitter, or Pinterest page with the easy share icons below.
Neal Tucker is one of the world's most engaging Disney influencers, with thousands of views and responses across his blog, podcast, and social media profiles every month.
Get started with more D Is For Disney content here