The sweetheart of Mickey Mouse is an iconic Disney character and we have Russi Taylor Minnie Mouse voice actress to thank for that.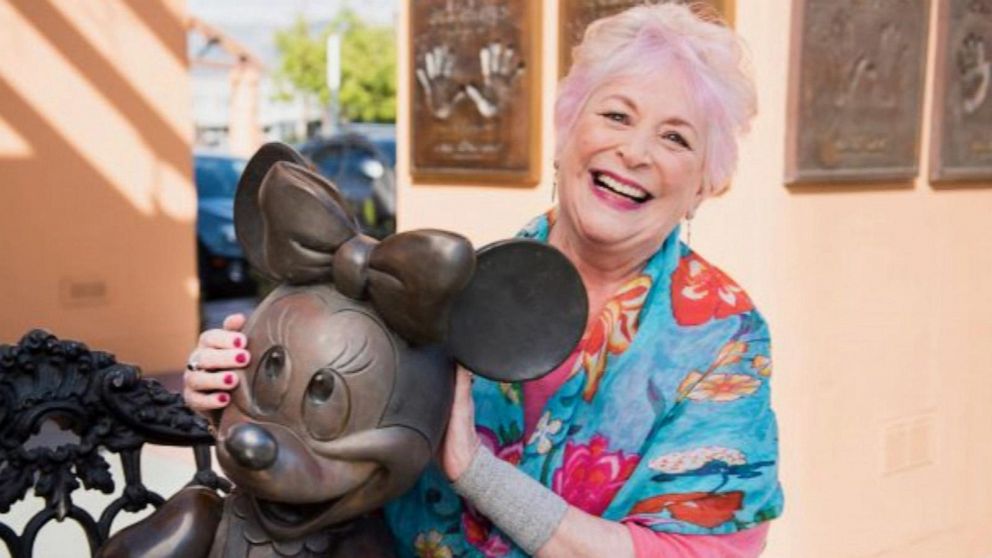 What things do you immediately associate when you see a photo of Minnie Mouse? Aside from her beau Mickey Mouse, you would probably connect her with her character's high-pitched voice.
That sweet and soft voice has Russi Taylor, Minnie Mouse voice actress for 30 solid years, to thank for its wonderful quality.
A large chunk of our Disney childhood is because of her and her voice portrayal of a lovable character.
Let's read about Russi Taylor – Minnie Mouse voice and Disney Legend.
If you're a huge fan, you better take a look at shopDisney's collection of Minnie Mouse merch!
Who is Russi Taylor / Minnie Mouse?
Russi Taylor was born on May 4, 1944 in Cambridge, Massachusetts. And wouldn't you know it! That's also my birthday! It's also also Star Wars Day!
She spent almost half of her life as a voice actress giving life to various cartoon characters.
Her talented voice was lent not only to Disney but to other animation studios as well. You may have come across her character in your favorite cartoon and not even know it!
While she portrayed a lot of characters, most people know her as Russi Taylor Minnie Mouse.
I guess we can say her greatest legacy would be as being our favorite lady mouse for three decades!
Russi Taylor: Beginnings
Russi Taylor started her voice-over career while in her 30's in the mid-1970s. The first voice talent role she landed was of Ted and Georgette's baby on the American sitcom The Mary Tyler Moore Show.
After that stint, a good line-up of voice over opportunities came knocking and she collaborated with different animation studios.
Before being Russi Taylor Minnie Mouse, she was the sweetheart Strawberry Shortcake of the television show of the same name and cute Pebbles of Hanna-Barbera's The Flintstones. She also starred in The Little Rascals as Dolly and Muppet Babies as Baby Gonzo.
Quick aside: Muppets fans rejoice for the new show on Disney Plus!
If you watched My Little Pony: The Movie in the 1980's, you probably heard her voice, too! She was Morning Glory Rosedust.
Russi Taylor ventured into other animated films and television shows first before finding a home at Disney.
Check out her many characters and voices in this video!
Russi Taylor and Walt Disney
Even before Russi Taylor's lifelong partnership with Disney, she had always dreamt of working for the company. She even had a very cute encounter with the man Walt Disney himself!
As she retells the story, Russi Taylor was still a little girl when she had that magical trip to Disneyland.
After spending the day there together with her mother and brother, they decided to get popcorn.
On their way from the popcorn stand, they came across Walt Disney sitting on a bench.
They approached him, introduced themselves, and even shared their popcorn.
Walt Disney then asked Russi Taylor the usual question every kid was asked – what do you want to be when you grow up?
To which, the little Russi Taylor replied, "I want to work for you!" 🙂
Who would have thought that a few decades after that encounter, she would actually work for the company of the man who asked her the question?
Talk about destiny!
Minnie Mouse Through The Years
The fulfillment of Russi Taylor's childhood dream was mainly because of Minnie Mouse. However, she wasn't the first person to give a voice to the character.
There were other individuals who served as Minnie Mouse's voice actors through the years. These were:
Walt Disney (1928–1929)
Marjorie Ralston (1929)
Marcellite Garner (1930–1939; 1942; 2013)
Thelma Boardman (1941–1942)
Ruth Clifford (1942–1952)
Janet Waldo (1974)
Are you also curious of how Mickey Mouse has changed over time? Watch Mickey's transformation from the very beginning to today!
Russi Taylor: Minnie Mouse
Russi Taylor Minnie Mouse was the seventh voice talent of the famous Disney character. Landing that coveted role, however, was not easy.
About 200 voice actors joined the auditions in 1986 to be the voice of Minnie Mouse. Because of her perfect high pitch sound, Disney offered Russi Taylor the sought-after role.
It was there when all the magic started and the rest, as they say, is history.
She ended up being Russi "Minnie Mouse" Taylor, for 30 long and fruitful years. Russi Taylor continued her service as the Disney character until her death in 2019.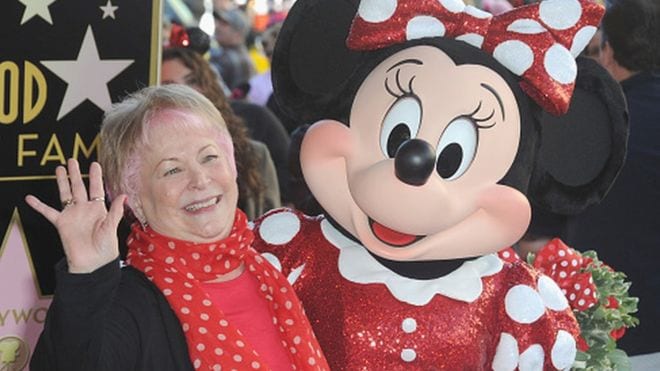 Popularly known as the voice behind Minnie Mouse, she starred in an overwhelming roster of Disney projects.
In terms of film, she was in famous Disney hits such as Who Framed Roger Rabbit in 1988 and Runaway Brain in 1995. You can also hear her as Minnie Mouse in 2000-onwards movies such as Mickey, Donald, Goofy: The Three Musketeers in 2004 and Get a Horse! in 2013.
With her fair share of television series, Russi Taylor Minnie Mouse was in Mickey MouseWorks and House of Mouse. On top of that, she also played the character in Mickey Mouse Clubhouse and the Mickey Mouse short series for Disney Channel.
Have you seen these movies or regularly catch these shows on television? If so, then you have already met Russi Taylor, the lovable voice of Minnie Mouse!
Other Notable Disney Characters
Minnie Mouse isn't the only Disney character she breathed life into.
Do you know Huey, Dewey and Louie? If they sound familiar, it is because they are Donald Duck's triplet nephews!
Russi Taylor was the voice of all three ducklings in the television series DuckTales. In that show, she also played Webby Vanderquack.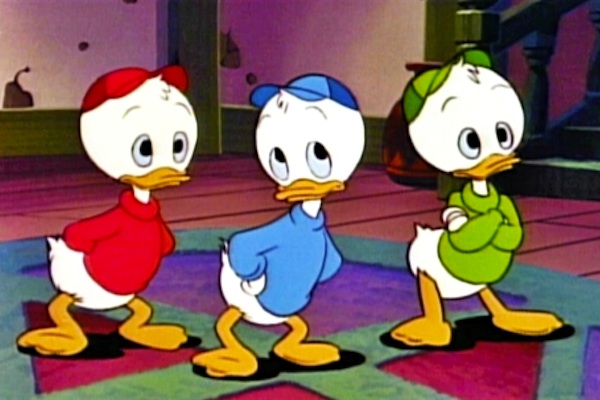 Aside from these personalities, Russi Taylor also had human characters.
She even worked with our lovely Disney Princess, Cinderella…
Following the success of the first Cinderella movie, Disney produced two sequels titled Cinderella II: Dreams Come True and Cinderella III: A Twist in Time. In both movies, she gave her voice to one half of Cinderella's stepsister duo, the loud Drizella.
It might also shock you but aside from the evil one, Russi Taylor also gave her voice to one of the good guys. Does "Bibbidi Bobbidi Boo" ring a bell?
You guessed that right! She was also the voice talent of the kind and helpful Fairy Godmother.
Did you know that your child can have a Cinderella makeover at Disneyland and Walt Disney World? Check out our hand-tailored guide to the Bibbidi Bobbidi Boutique!
With all the work that she has done for Disney, Russi Taylor truly is a Disney legacy.
Did You Know: Minnie Mouse Married Mickey Mouse in Real Life?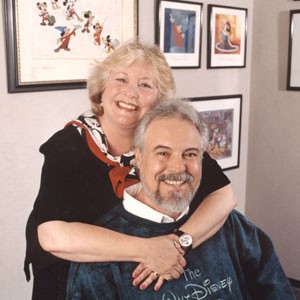 Minnie Mouse and Mickey Mouse got married! Well, their voice actors did anyway. 😉
Russi "Minnie Mouse" Taylor married Wayne "Mickey Mouse" Allwine and they lived happily ever after. However, their fairytale story didn't start as smoothly.
While doing voice overs for Totally Minnie in 1988, the two met as colleagues. The thing was, she was married to her first husband. He was also married to his first wife. Their individual marriages, however, both met an end.
The now-single Minnie and Mickey continued to be friends at work. Eventually, they fell in love and said their vows in 1991 in Hawaii.
Their co-workers described them as the real-life Minnie and Mickey Mouse because they were so great together.
Russi Taylor and her husband, though, did not want their relationship to affect how Disney lovers saw Minnie and Mickey and their relationship. For this reason, they tried to keep their personal relationship private.
Russi Taylor Minnie Mouse: Disney Legend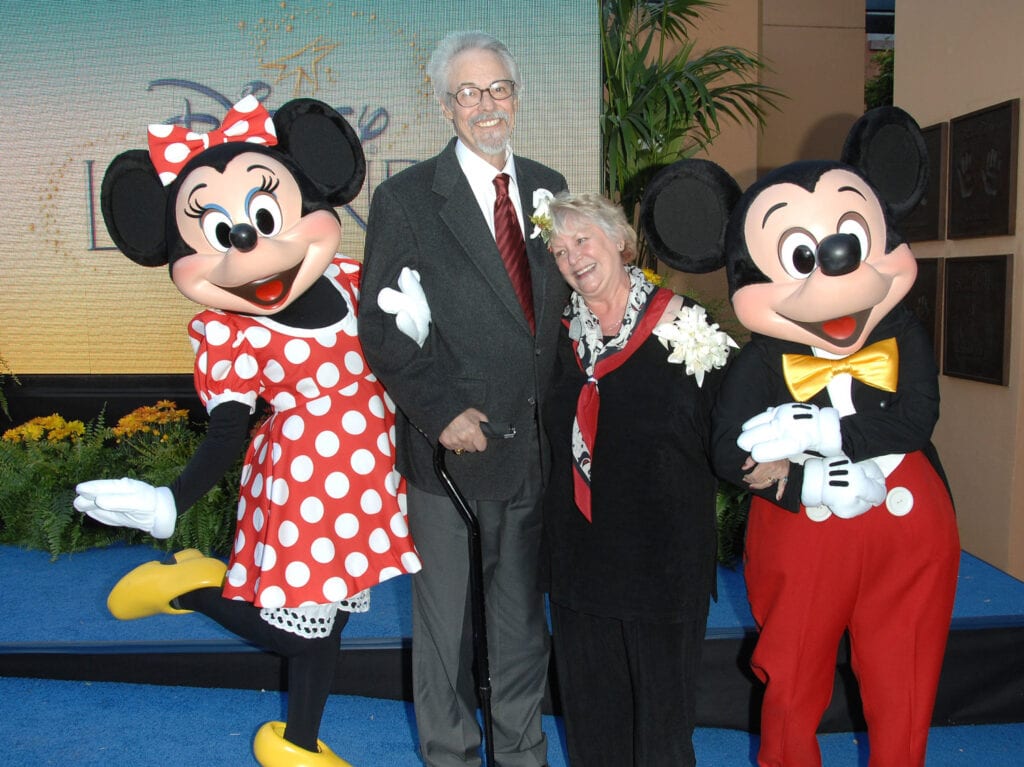 For being the sweet voice of Minne Mouse since 1986, Russi Taylor was hailed as a Disney Legend in 2008.
In the same year, her husband Wayne Allwine also got the honorable title for being Mickey Mouse for 32 years.
They were Disney Legends and truly a match made in Disney heaven!
A year after their recognition, Wayne Allwine died. Russi Taylor followed a decade after when she succumbed to colon cancer on July 26, 2019 at the age of 75.
Russi Taylor: Awards
No doubt, people acknowledged Russi Taylor for her VO talent. She was so good at her craft that she received many nominations.
In 2006 and 2007, she got a nomination for Daytime Emmy Awards. Her work in the series Jakers! Adventures of Piggley Winks gave her merit as an outstanding performer in an animated program.
In 2018, she also had a nomination for a Primetime Emmy Award for outstanding character voiceover performance for being the sweetie Minnie Mouse in Mickey Mouse.
Russi Taylor: Minnie Mouse In Our Hearts
Though she is no longer around, her legacy as Russi Taylor Minnie Mouse will always stay in the hearts of every Disney lover, and Minnie Mouse herself will live on forever.
Ms. Taylor's wonderful work at Disney for 30 years and decades of voice projects are enough to cement her status as not only a Disney Legend, but also a legend in the voice acting industry.
She is truly one of a kind and will forever be our Minnie Mouse!
Interested in drawing Mickey and Minnie Mouse for your own cartoons? Learn how to do that for free right here.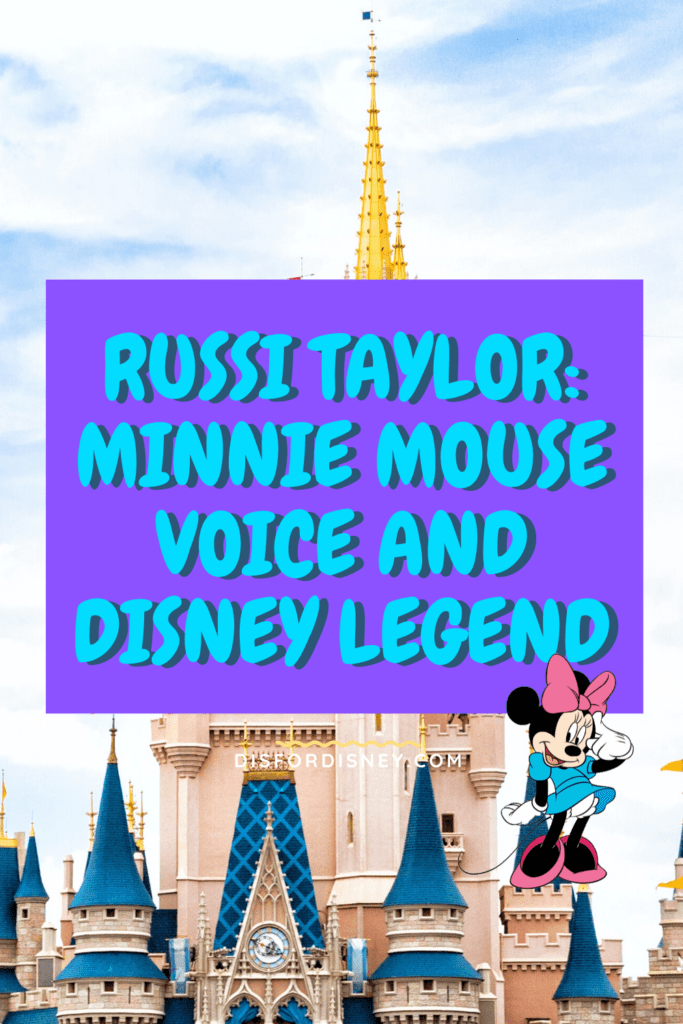 Share this post on your Facebook, Twitter, or Pinterest page with the easy share icons below.
Neal Tucker is one of the world's most engaging Disney influencers, with thousands of views and responses across his blog, podcast, and social media profiles every month.
Get started with more D Is For Disney content here