The whole family needs to have the best Disney shirts to wear to the theme parks, such as Walt Disney World Resort, Disneyland Resort, or Disneyland Paris. Since there's so many great Mouse House tees and t shirt options — not to mention that they're all spread out all over the internet — I've done all the hard work for you! Take a look below to check out all 21 of the very best and unique Disney t-shirts for you and your family to wear and show off your Dis-tribe at the parks. Talk about best day ever! 🙂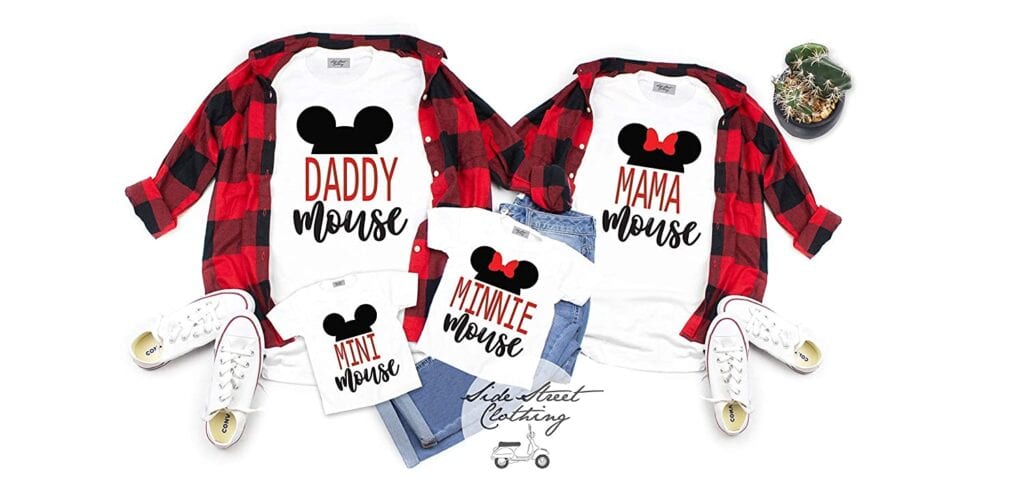 21 Best Disney Shirts for Your Family to Wear to Disney World & Disneyland
Without further ado…
Here are the 21 best and most unique shirts for the whole family to wear in Disney fashion.
Add these to your family wardrobe to wear on your next family trip to the Magic Kingdom or Hollywood Studios at Disney World, California Adventure at Disneyland, or any of the other Disney theme parks around the world!
Note: All the shirts below are available on Amazon. Some are available with free shipping from Amazon Prime.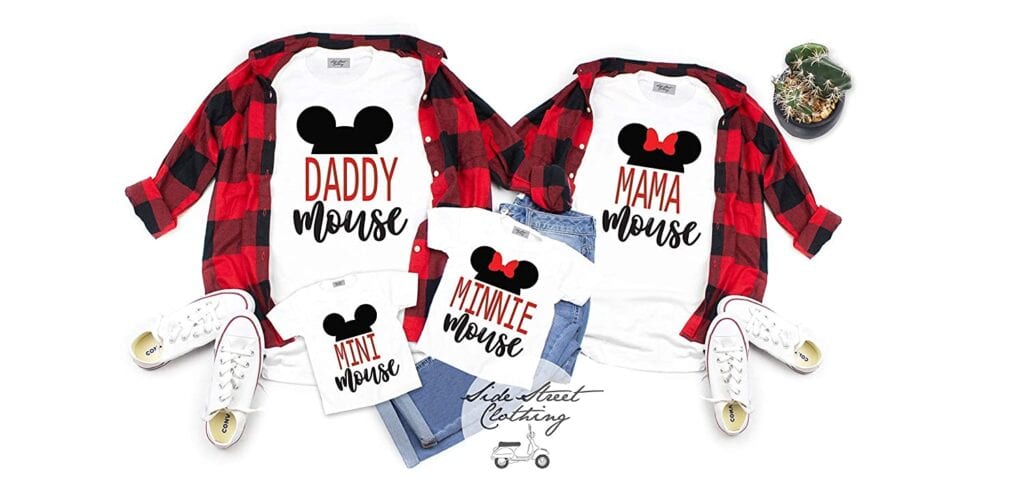 Nothing says a trip to the parks like Daddy Mouse, Mama Mouse, Minnie Mouse, and Mini Mouse shirts (see what they did there?). 😉
If you're looking for the absolutely perfect Mickey Mouse and Minnie Mouse inspired wear for your next Disney vacation, then look no further. These are an excellent addition to any Disney wardrobe, both now and for a keepsake many years down the road!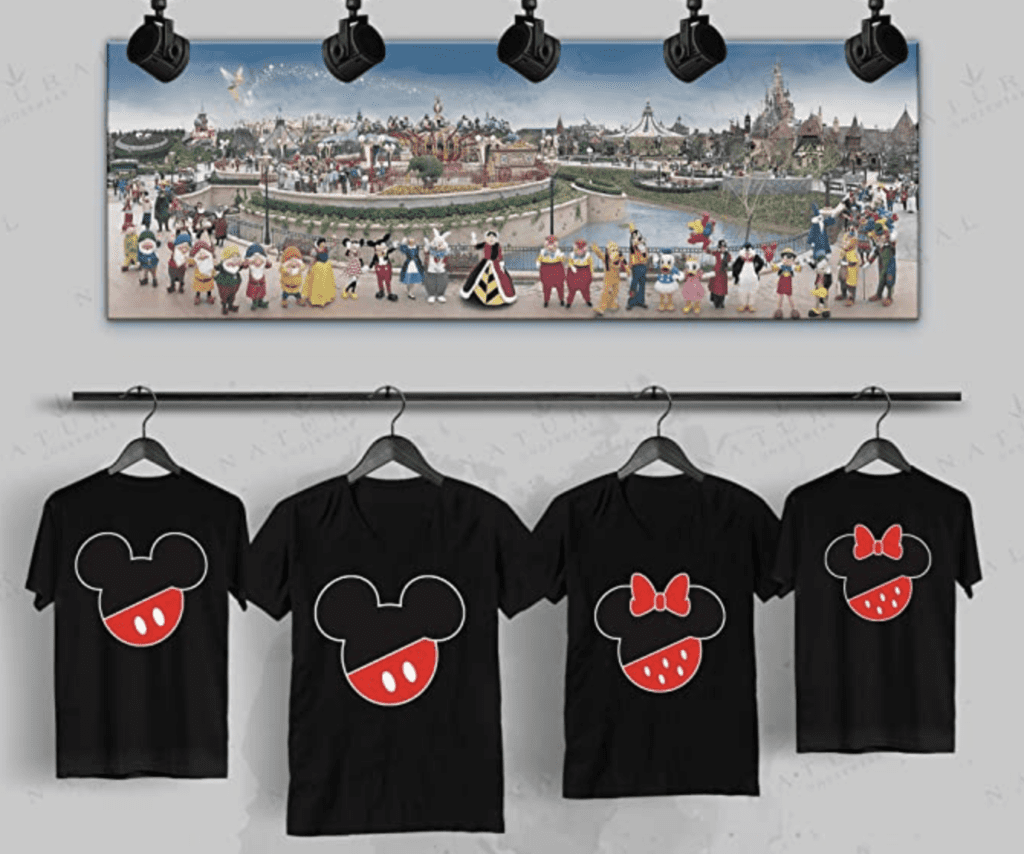 If you want to show off the Mickey and Minnie Mouse theme, but you don't want any designators about Mom, Dad, sister, brother, son, daughter, etc., then this is a great option for you and your fam.
Each one of these shirts is a standard black background with the iconic red and white Mickey Mouse for men, and red bow for Minnie Mouse for women. Simple, straightforward, classic.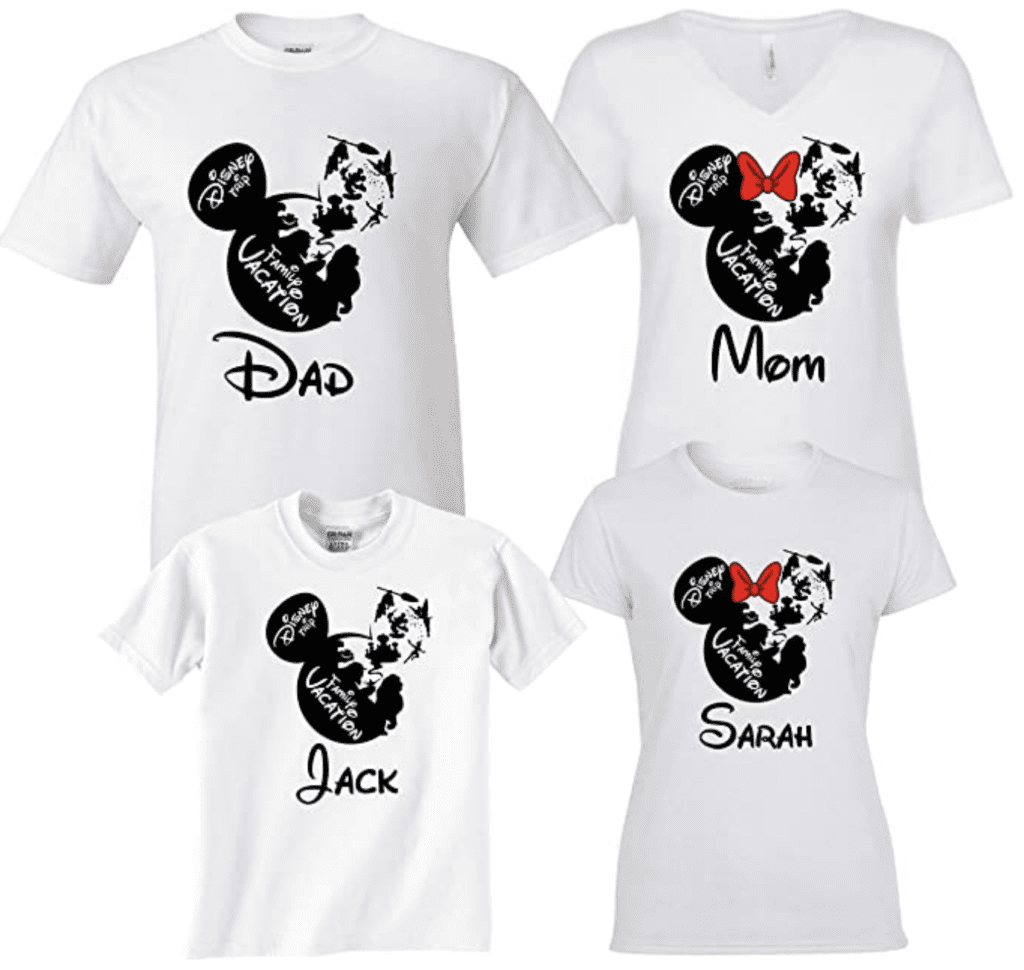 For those that want a little more customization options… This may be the best Disney family shirt around.
Not only can you customize the names on the shirts, but you can also change the color of the shirts and the Mickey and Minnie face/ears, and they come with fun Disney animated movie graphics coming out of the mouse shape. How fun is that! Personally, I absolutely love this one. Probably because I love Disney animated movies so much. 😀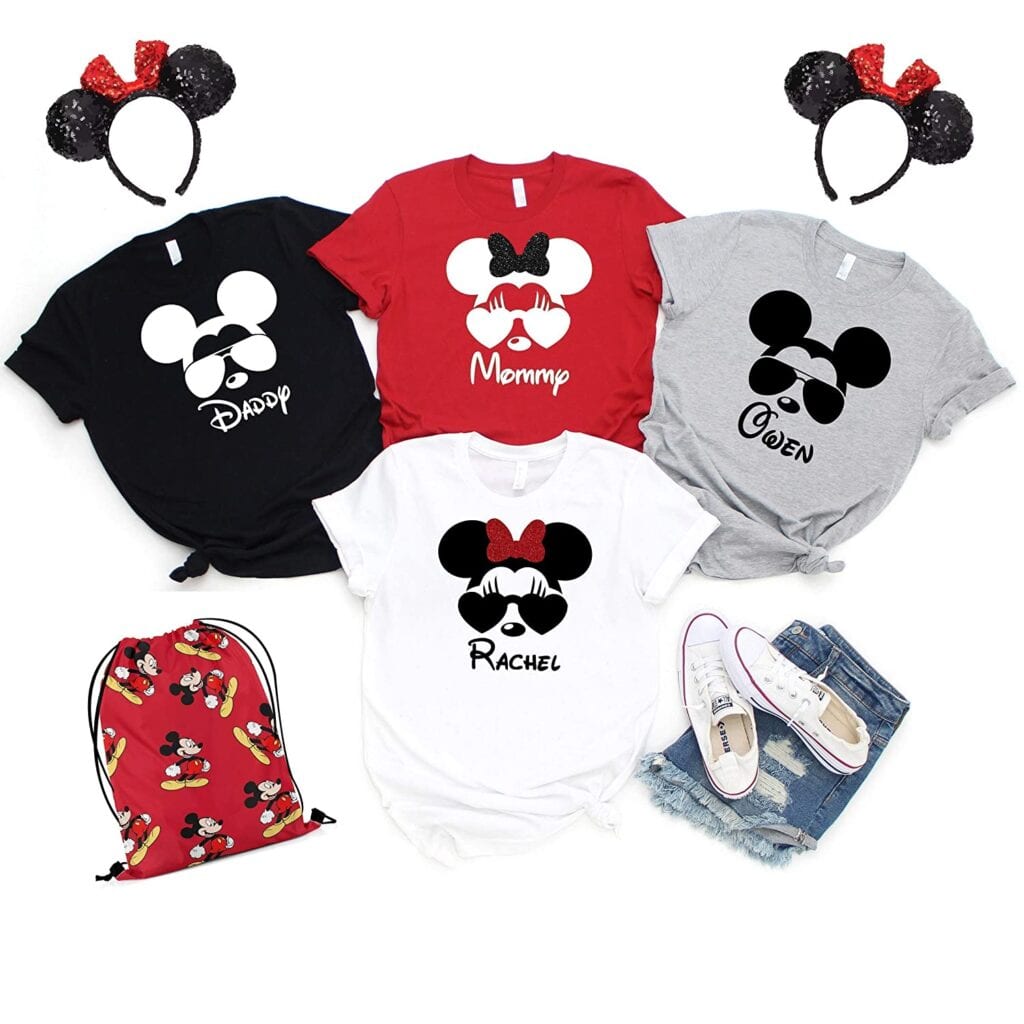 Nobody does cool like the OG Mr. and Mrs. Mouse themselves! Especially in some spectacularly cool aviators like these. Customize the names on these matching shirts, as well as the colors, throw on some jeans and a great Mickey Mouse tie-bag and you're good to go! Oh, and don't forget the shades…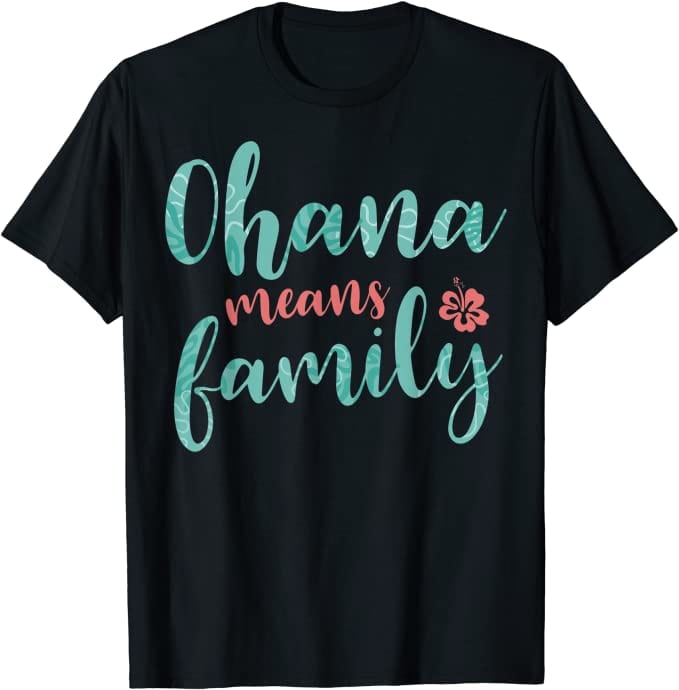 And now for something a little different — and a little bit on the wild side! If you want your entire family to have great clothes for the Disney vacay, BUT you don't necessarily want to go the traditional Mickey and Minnie Mouse route…
Then you might want to consider this Lilo and Stitch inspired tee. It has the classic "Ohana means family" tagline right there on the front, with gorgeous Hawaiian-themed lettering, coloring, and floral design. No matter who your favorite characters are, there's sure to be a Disney-themed shirt just for you and your fam!
And while you're at it, check out the FULL Stitch Crashes Disney collection for more fun and goodies!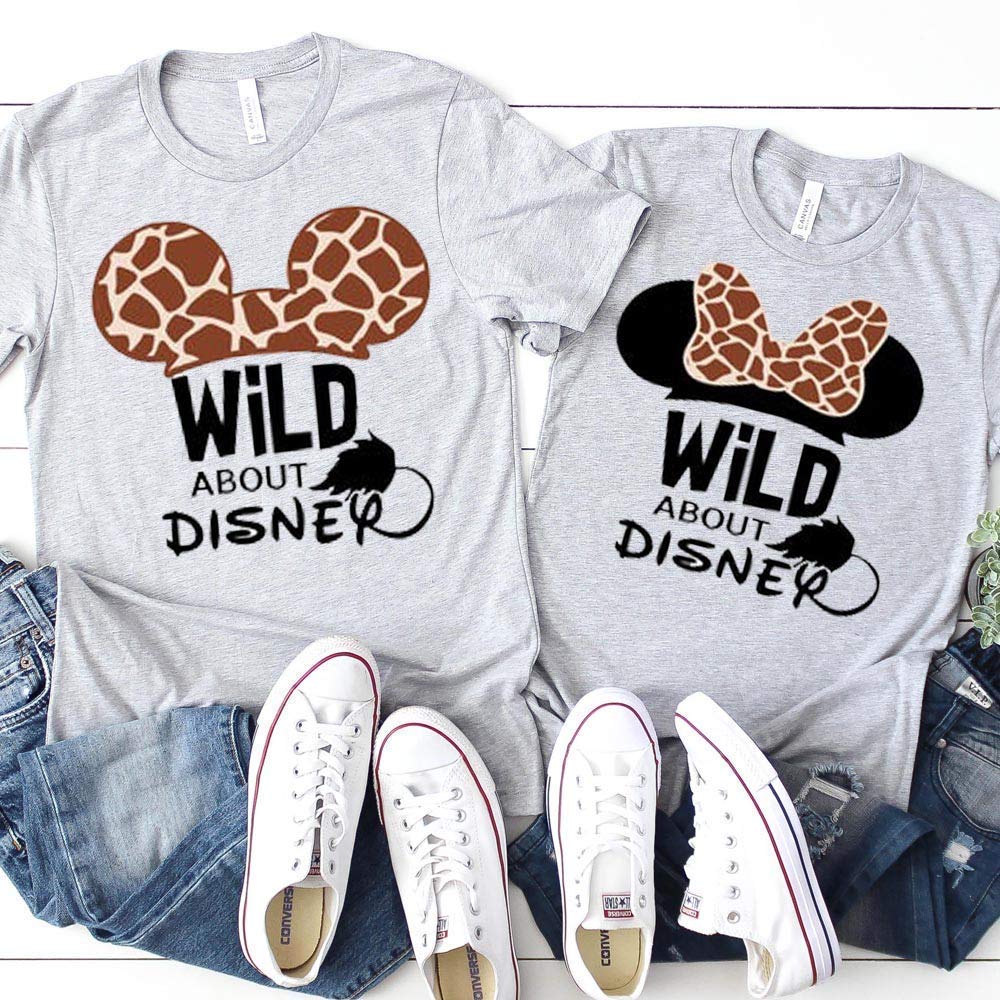 What if your favorite Disney theme park is Animal Kingdom? Well, for starters, great choice! But also… there's a shirt for that!
Check out these cool and stylish Wild About Disney t shirts. They've got the classic Mickey Ears and Minnie Ears, but they're decked out in giraffe print to get you ready for the safari. And the Y in Disney has a tail. So, you know these shirts mean business. Get your whole family a set and hit the Pride Lands with a little Lion King and Hakuna Matata!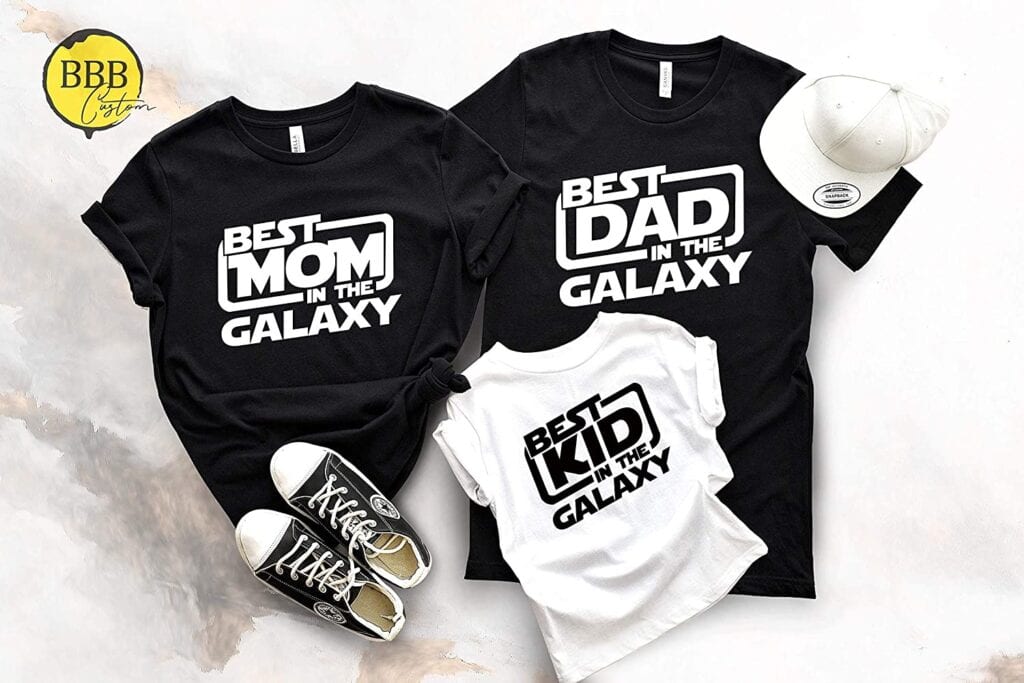 Pew Pew! Is your crew more of a Star Wars family kinda crowd? Then we've got just the shirt for you and your Padawans!
When you walk into Galaxy's Edge, the whole universe will instantly know that you're the best family in the galaxy. Because it says so right on your shirts! Best Mom in the Galaxy, Best Dad, and even Best Kids. It's a perfect time to jump to light speed in these great Star Wars t-shirts…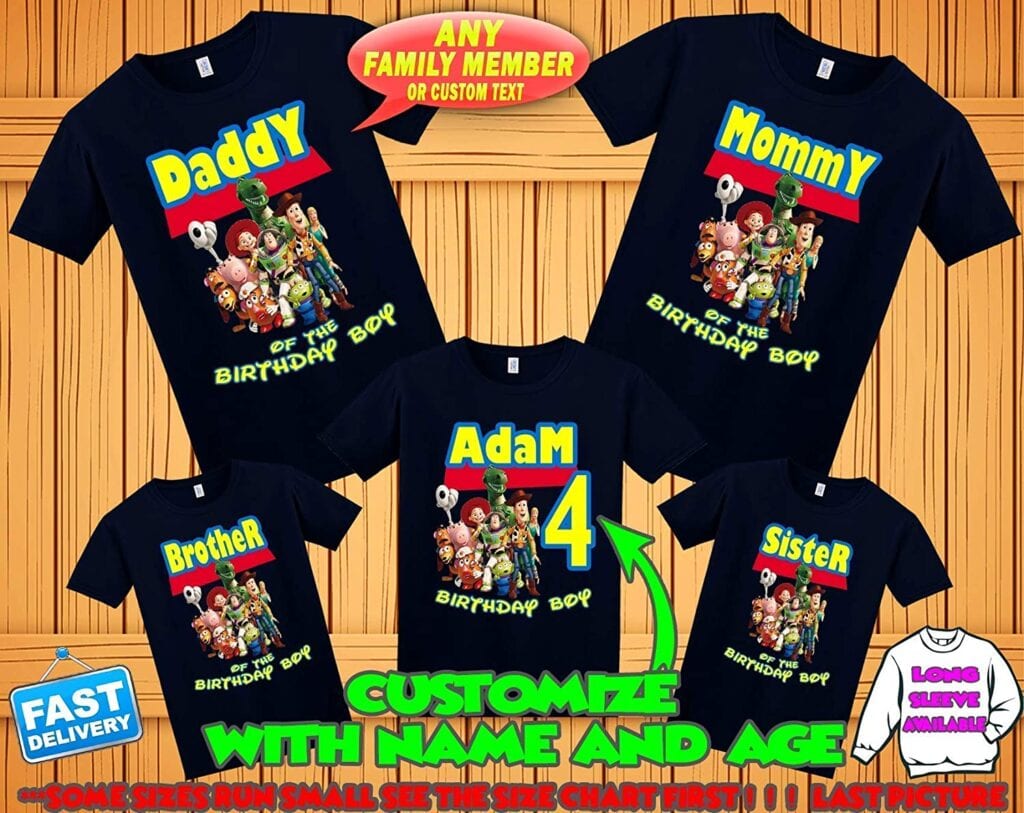 You know why I've celebrated so many of my birthdays at Disneyland? Because it's the best place in the whole world to spend your special day.
With that in mind, check out these fun Toy Story themed Disney tees. This matching shirts set has the whole Toy Story gang ready to go, and you can customize the text for each family member, as well as the age! And the whole thing comes in that classic Toy Story font and color scheme. For fans of Woody, Buzz, and the rest of the toys, this one is an instant classic.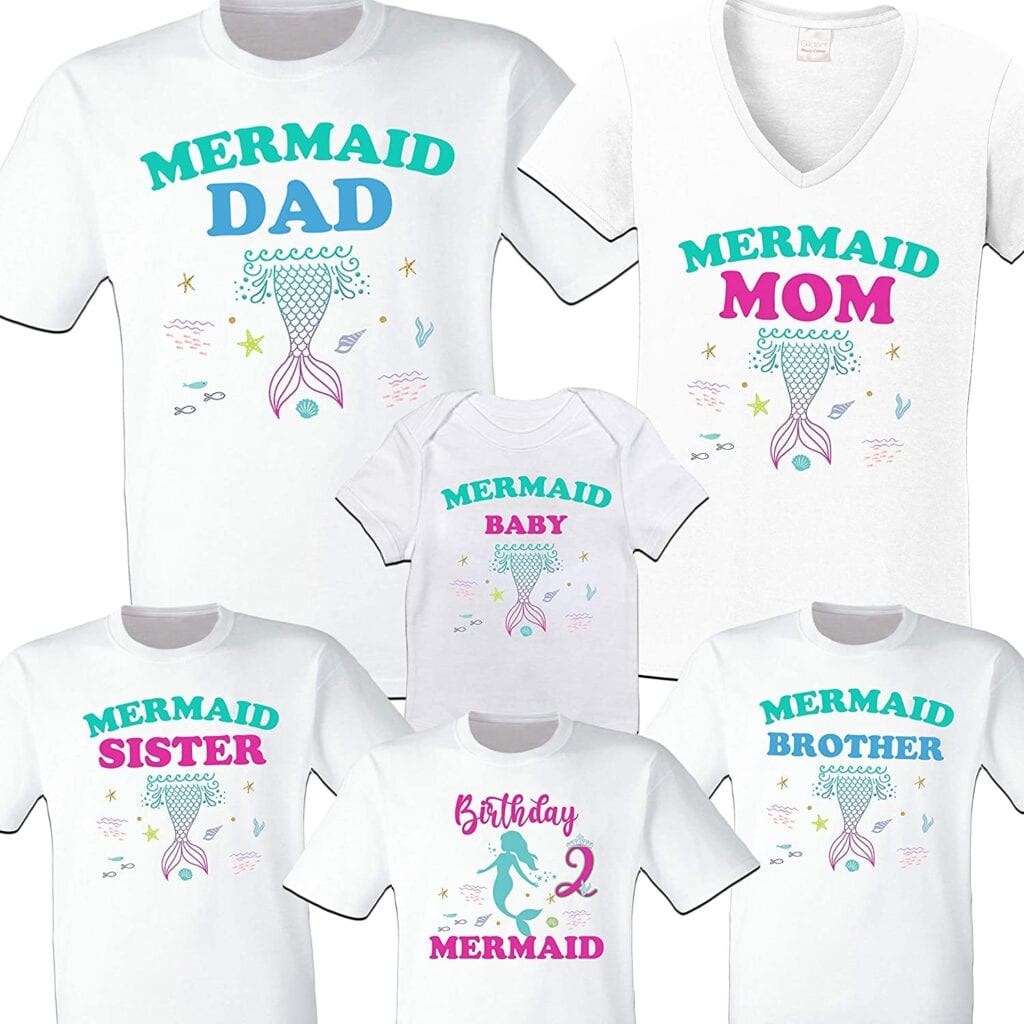 For a Disney birthday under the sea, you know you need a little Ariel Disney magic! For the Little Mermaid fans, check out this fun and colorful Ariel-inspired mermaid graphic tee set. Each one can be customized to feature the parent or sibling's name, as well as the birthday age. These shirts are sure to get compliments and look great on Instagram, too!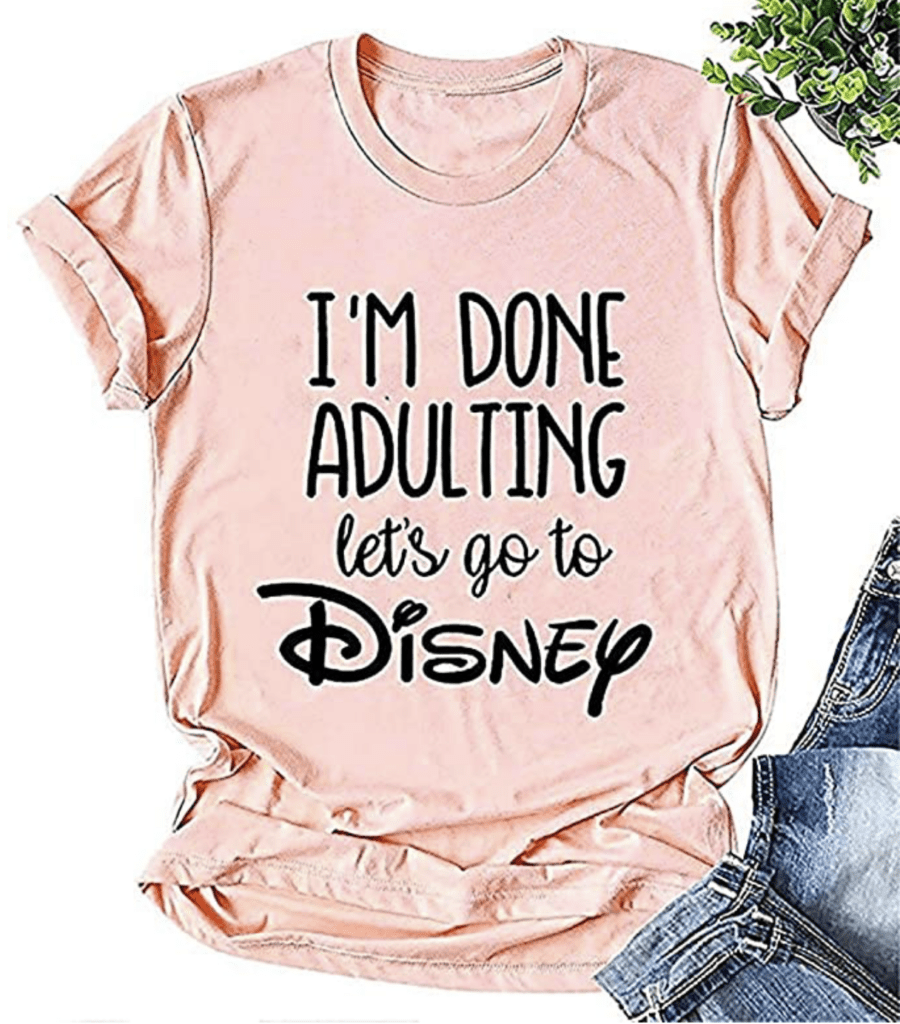 Going to Disney World with "the fam" doesn't always mean your parents and brothers and sisters. It can also mean taking a trip with your chosen family, like your close friends and besties. When the time comes for a great friend Disney trip, throw on your shirt that tells the world, "I'm done adulting. Let's go to Disney!"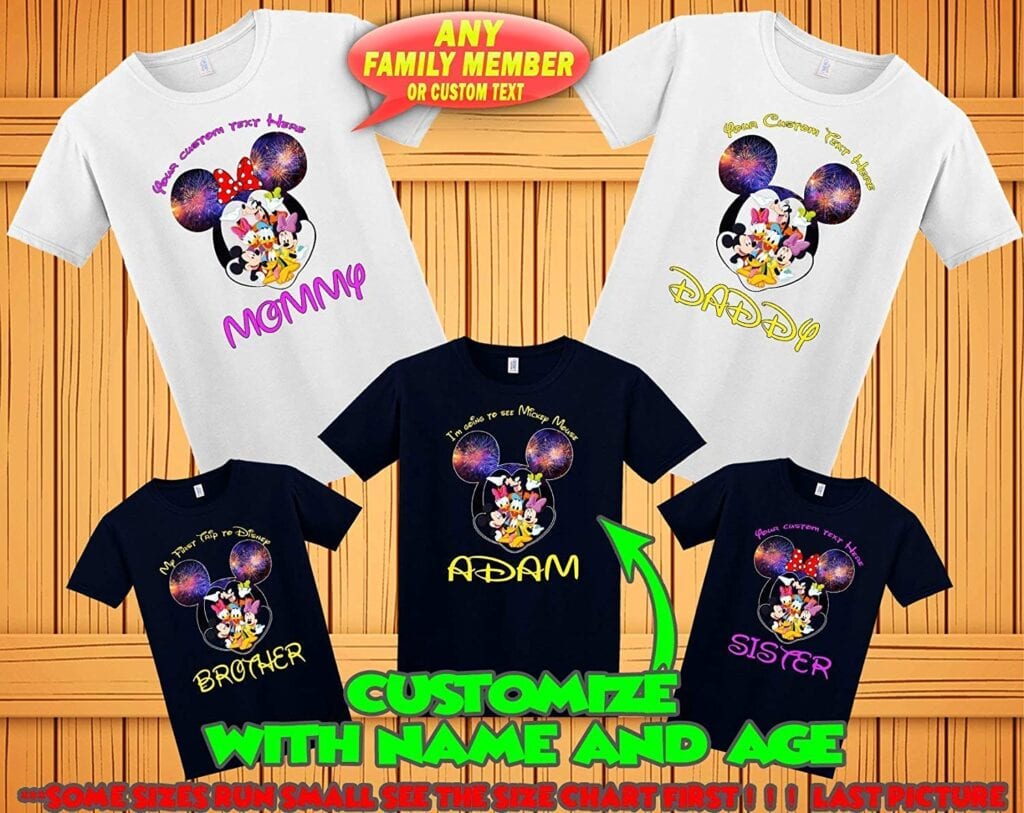 For the family that wants to show off Mickey and Friends, here's a great t shirt option. It comes with the classic Mickey face, filled with Mickey, Minnie, Pluto, Donald Duck, Daisy Duck, and Goofy, too! Plus, of course you can customize this one with the names of everyone in your group. Garsh and Oh, Boy! if you ask me…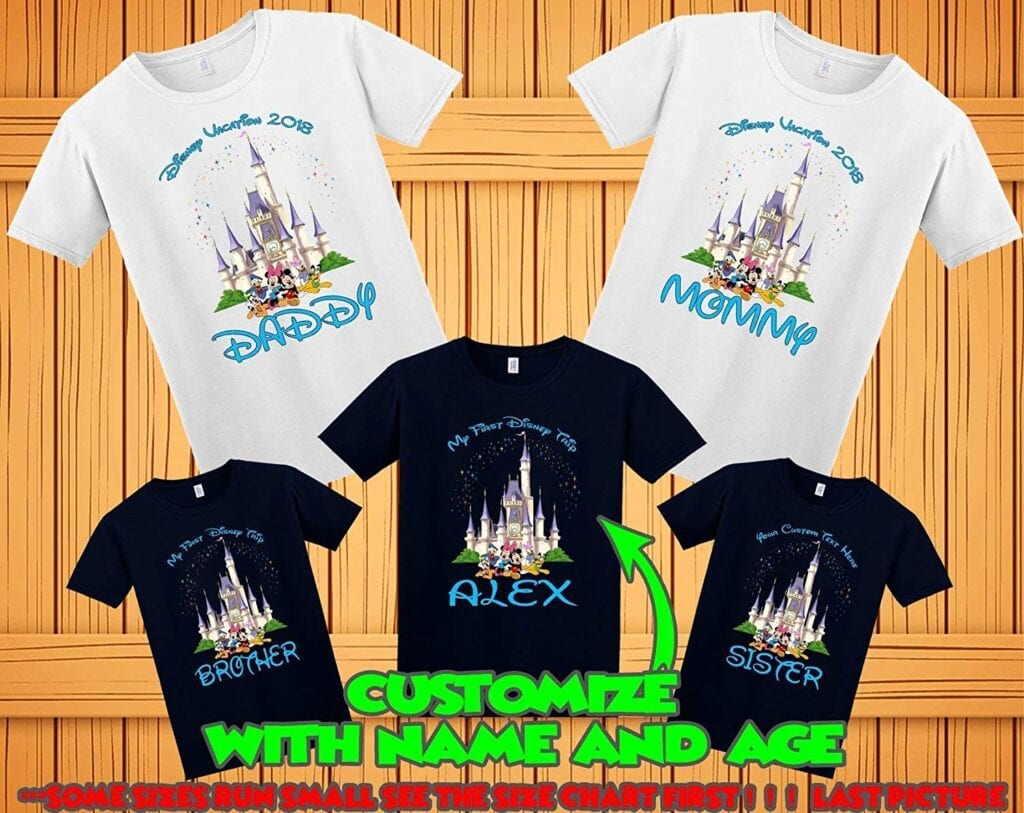 Practically nothing in the whole world says Family Disney Vacation quite like the Disney Castle. That's why this particular shirt is a really special one. Not only does it have the classic Disney princess castle right on the front, but it also features Mickey and Friends, and it can be customized! Talk about having everything!
When you want the entire family to be happy and well-dressed, look no further than this awesome and fun Disney tee.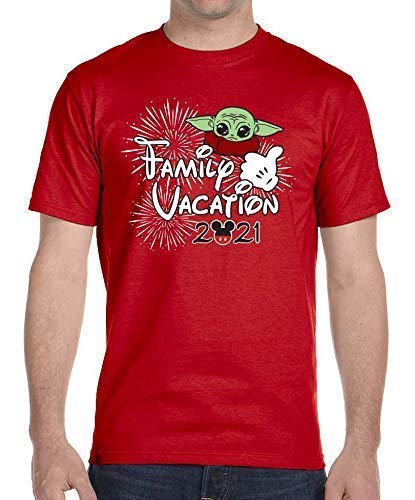 Sometimes, you want a little bit of this and a little bit of that… Thankfully, this shirt pretty much has it all!
From the classic Disney World fireworks, to the Mickey face and hand emblem, to Baby Yoda, and even the Disney lettering! There's not much these cute Disney shirts don't have, to be honest. Check it out and get your whole family a matching shirts set to wear to your favorite places at WDW on your next trip.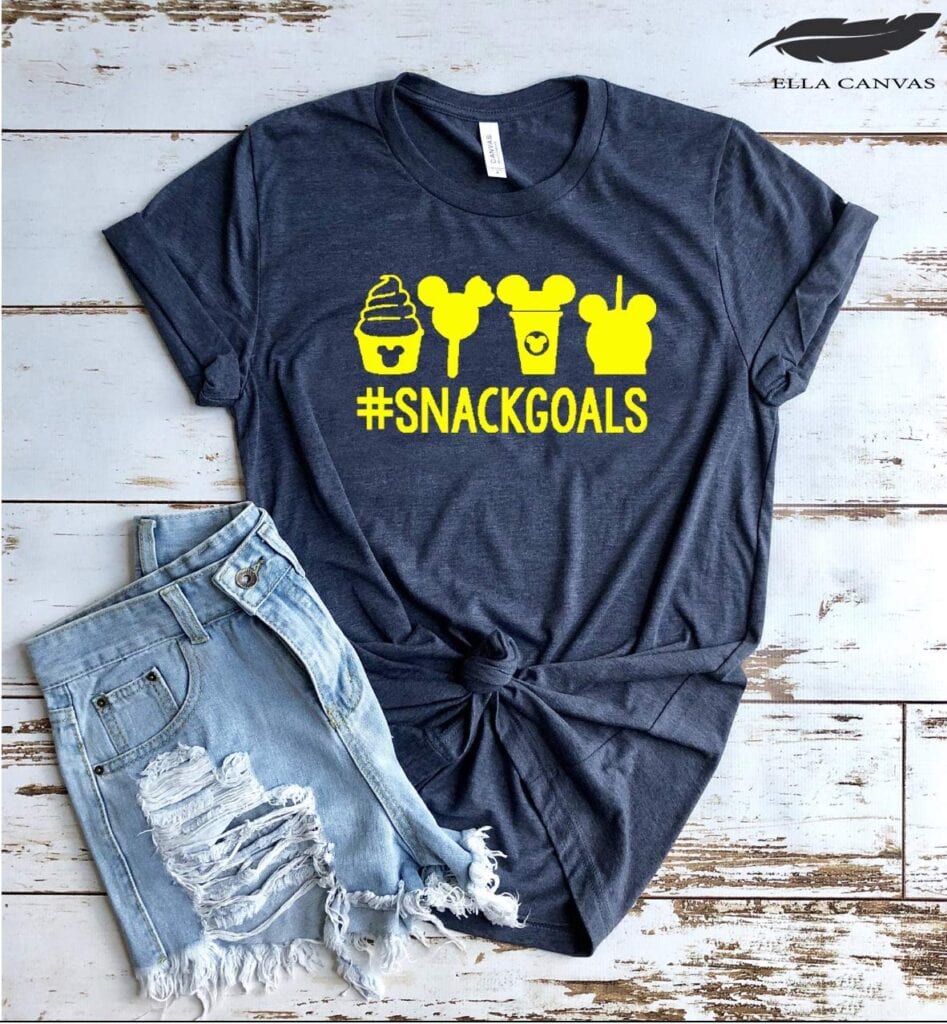 My favorite food group — by a mile, at least — is Disney Foods. That's why this shirt really spoke to me. It's like my spirit animal in a t-shirt. If you can relate, then get yourself a #SNACKGOALS shirt for you and your family and friends and hit up the food kiosks like a seasoned pro. (While we're on the subject, anybody else really wish they accepted the Annual Pass discount at kiosks?)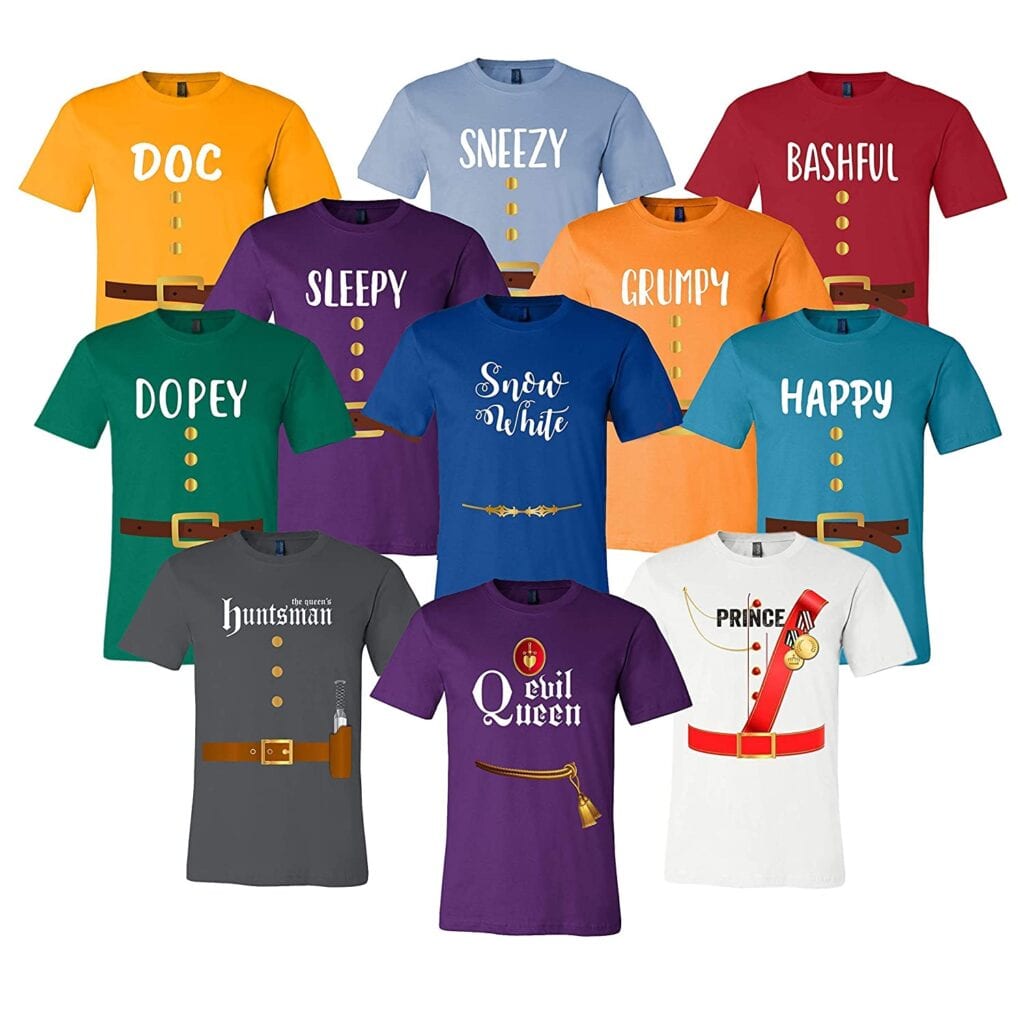 Let's just say you happen to have a HUGE family. Or maybe you just have a TON of friends. Or it's a work trip? Honestly, the only thing that matters is that you love Disneyland and Snow White and you want to show it off to everyone in existence. If that's the case, check out these awesome Snow White inspired tees. They feature all the main characters:
Snow White
Evil Queen
The Prince
Dopey
Happy
Bashful
Grumpy
Sleepy
Doc
Sneezy
PLUS the Evil Queen's Huntsman
Heigh ho, it's off to the Disney Parks we go!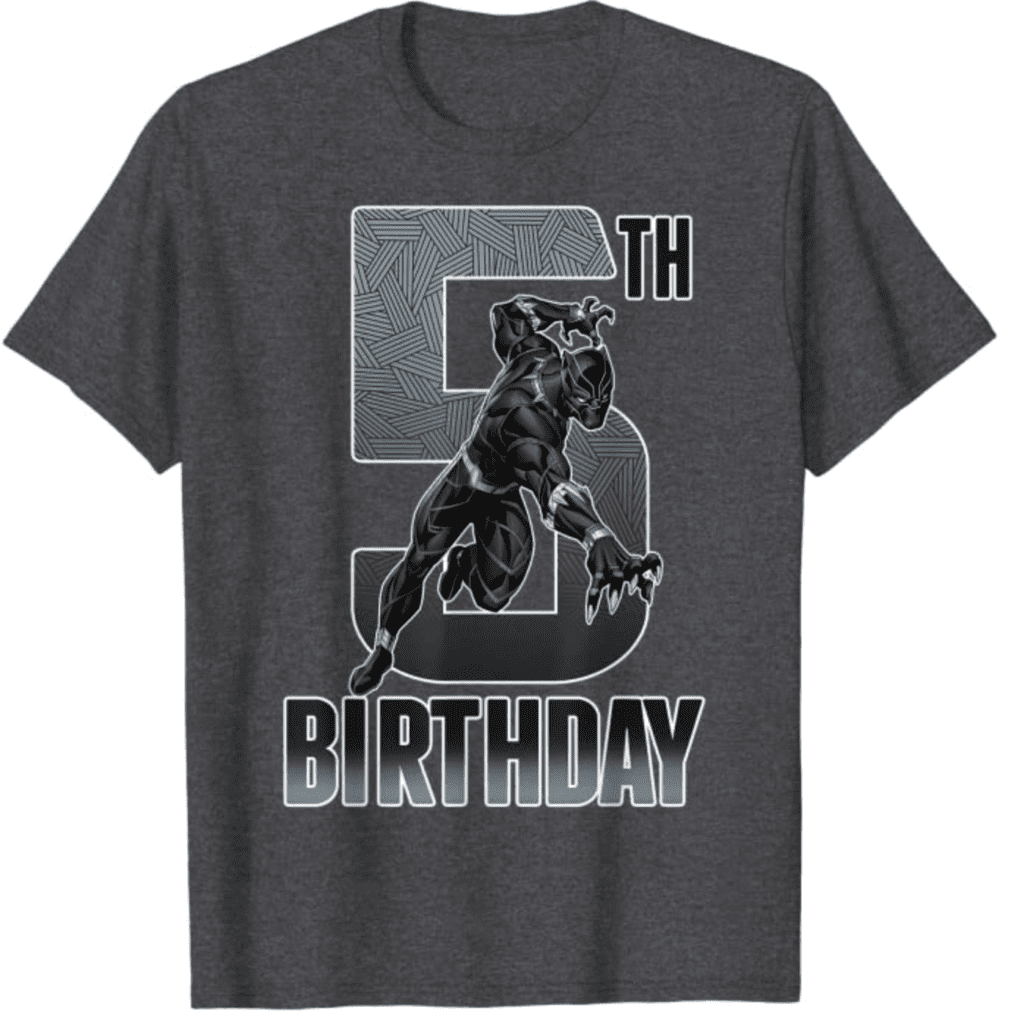 Considering how popular the Marvel movies and the whole MCU has become, it's no wonder that kids go crazy about Marvel superheroes shirts. This one in particular caught my eye, because it features a birthday and the classic Black Panther hero in action, who is one of my personal favorites. If you're kid is celebrating their birthday and loves Black Panther, get a set of these Marvel bday shirts and head to the parks!
This Black Panther shirt is also available for these birthdays: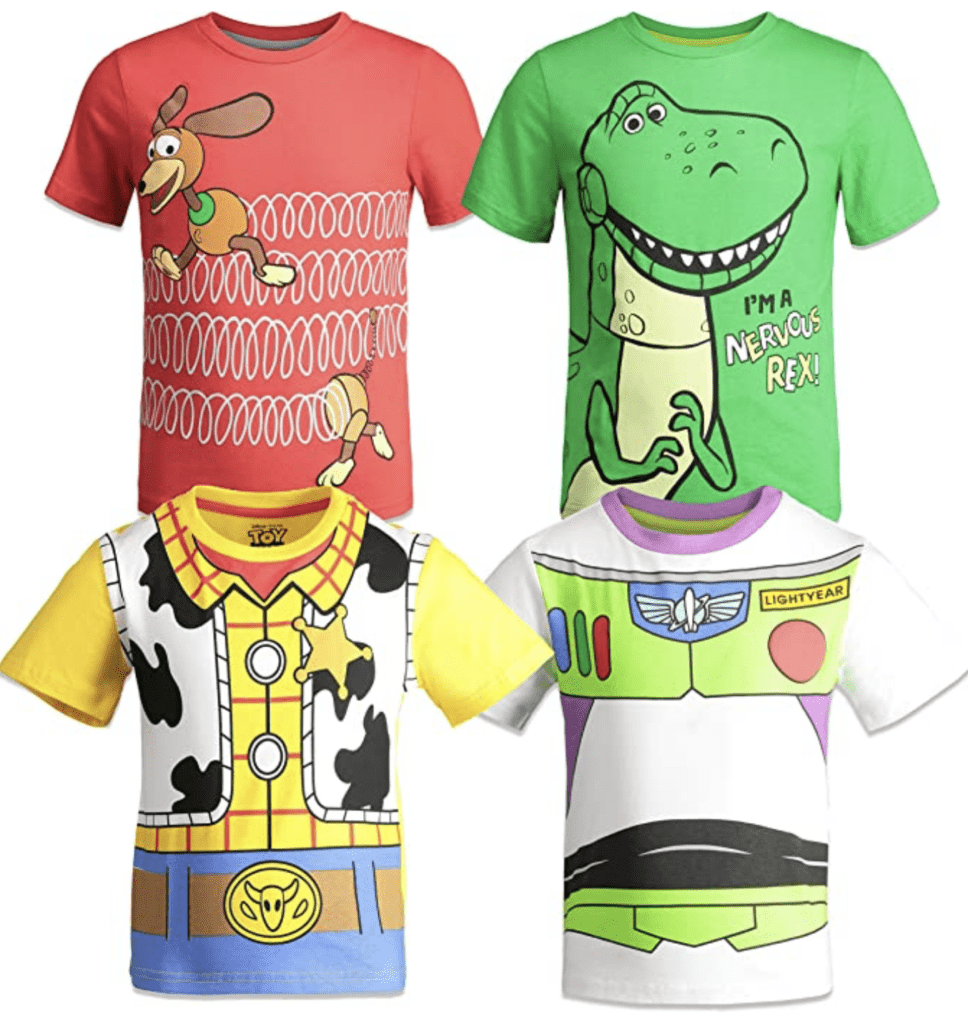 More Toy Story fun for everyone! These are great shirts if you have several children and they all want to be the characters from Toy Story 1, 2, 3 or 4. Or just for a visit to Toy Story Land. Will there be a Toy Story 5? Maybe! If you have these shirts, you'll be more than ready, no matter what Toy Story fun is on the horizon.
Features the following characters:
Sheriff Woody
Buzz Lightyear
Rex (the Dinosaur)
Slinky Dog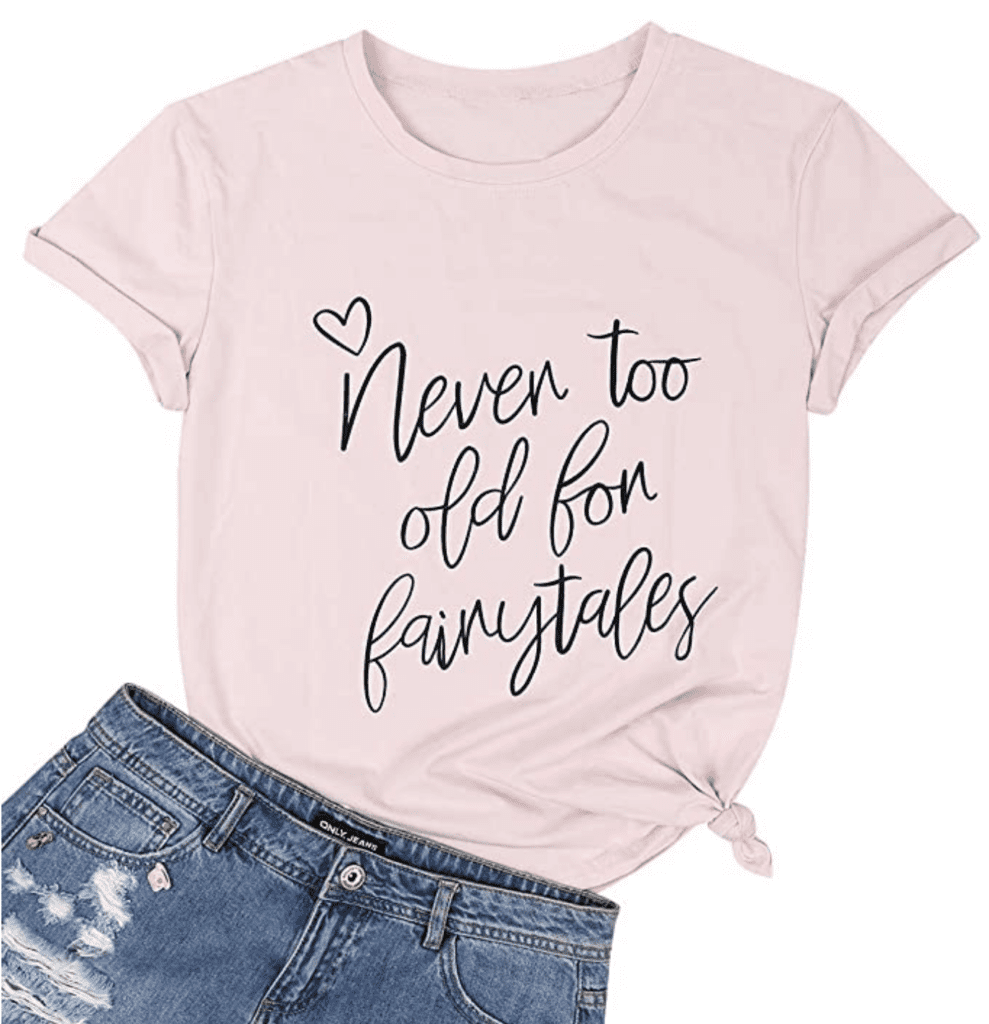 Another great shirt choice for those chosen family and friends theme park trips. C.S. Lewis, the writer of The Chronicles of Narnia, once said that the really great fairy tales are even better when you read them as an adult. This shirt embodies that truth with beautiful typography. If you're looking for a magical Disney t-shirt for adults, this one is just your type!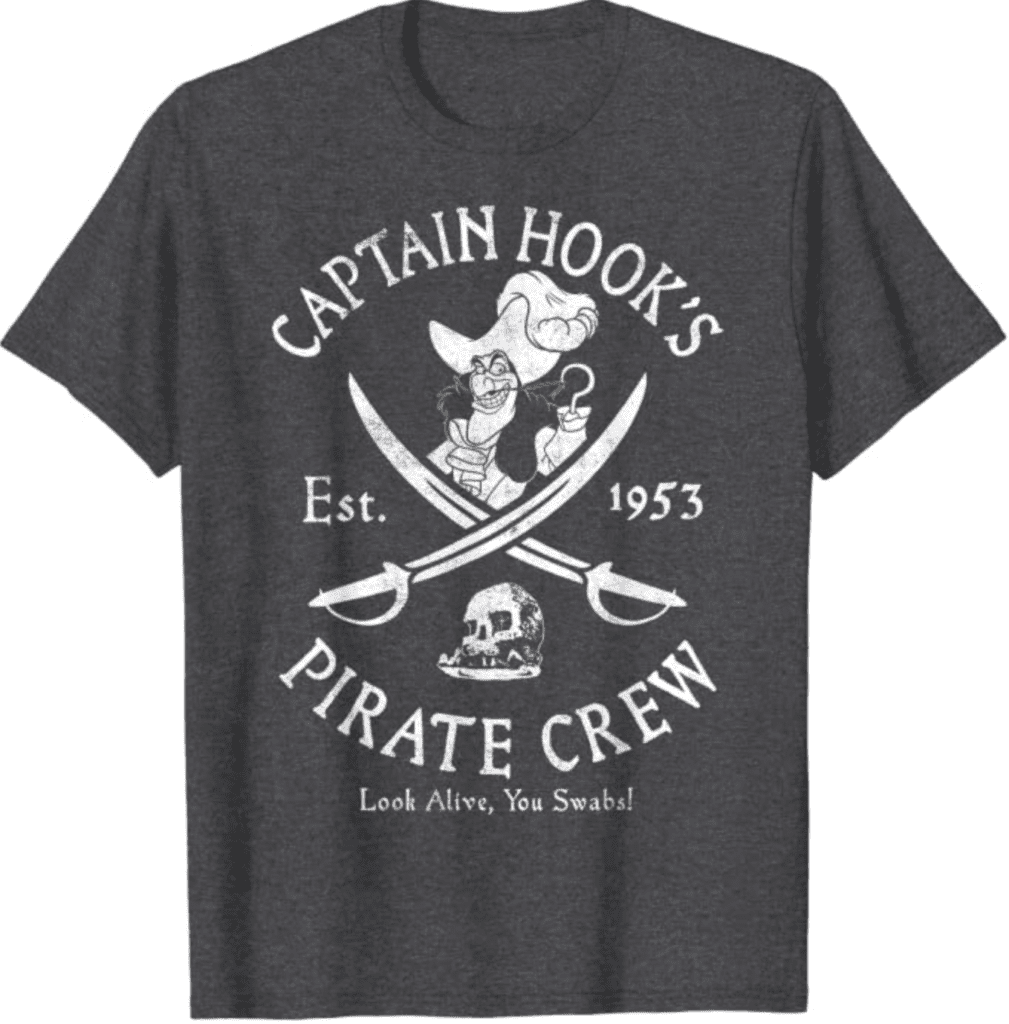 Even though this one isn't customizable, it's still one of my favorite shirts on this whole list. Because it's got Captain Hook! One of the best villains in all of Disney animated movie history. Also, I love Pirates of the Caribbean, and it sorta reminds me of that, too. If you're a Peter Pan loving fam, then you might just need a whole set of these shirts.
It comes in four different colors:
Dark heather (shown above)
Black
Cranberry red
Navy blue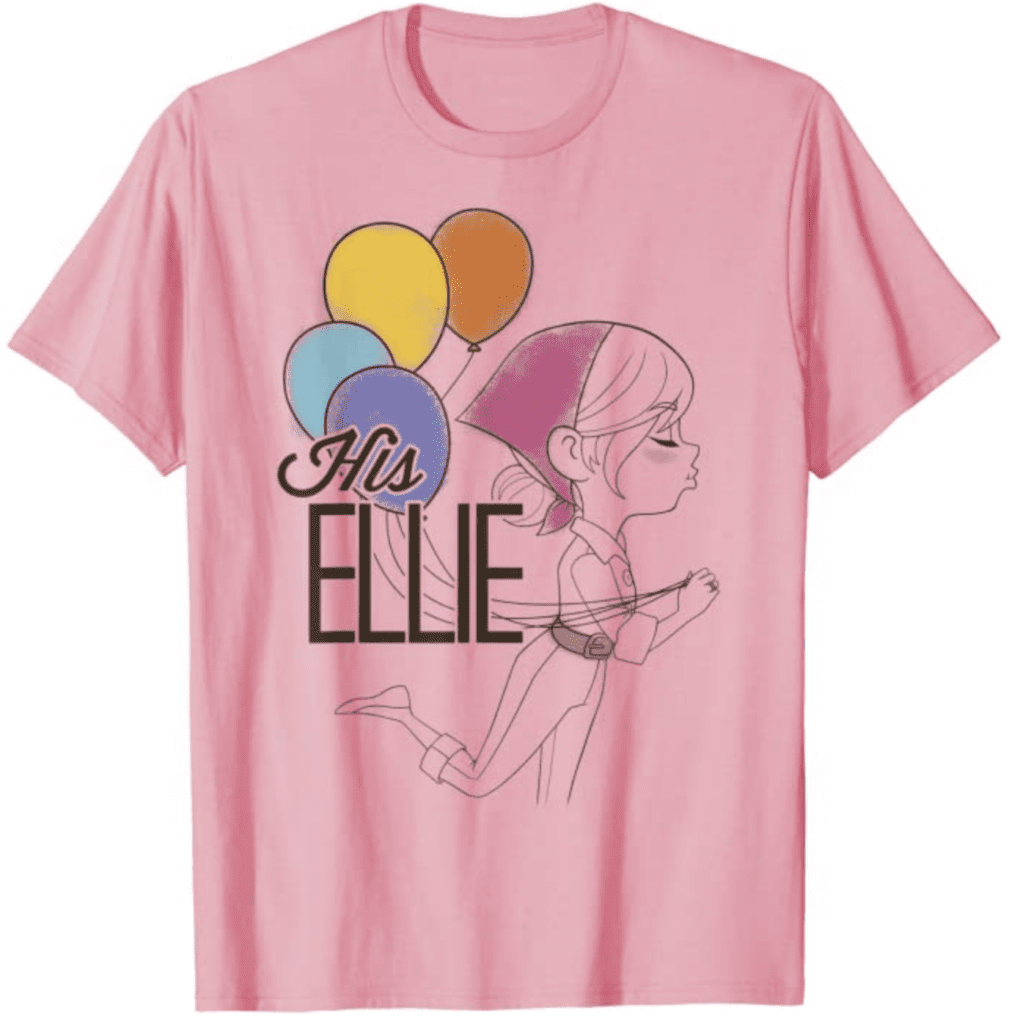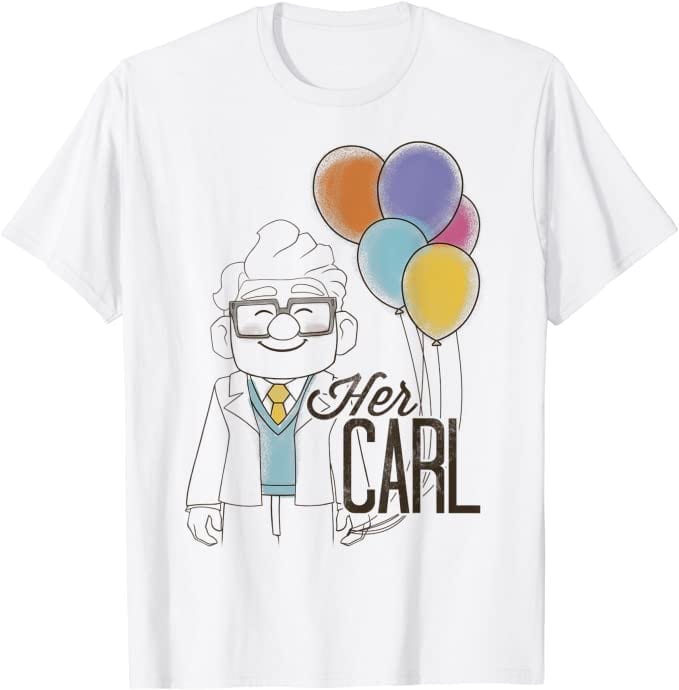 One of the greatest love stories ever told is Carl and Ellie's from Up, the Pixar film that makes me cry EVERY SINGLE TIME. And I just love it so much. If you and your boo want to emulate Carl and Ellie, then this pair of Pixar balloon shirts is right up your lovely alley.
Here are the direct links for both Up shirts: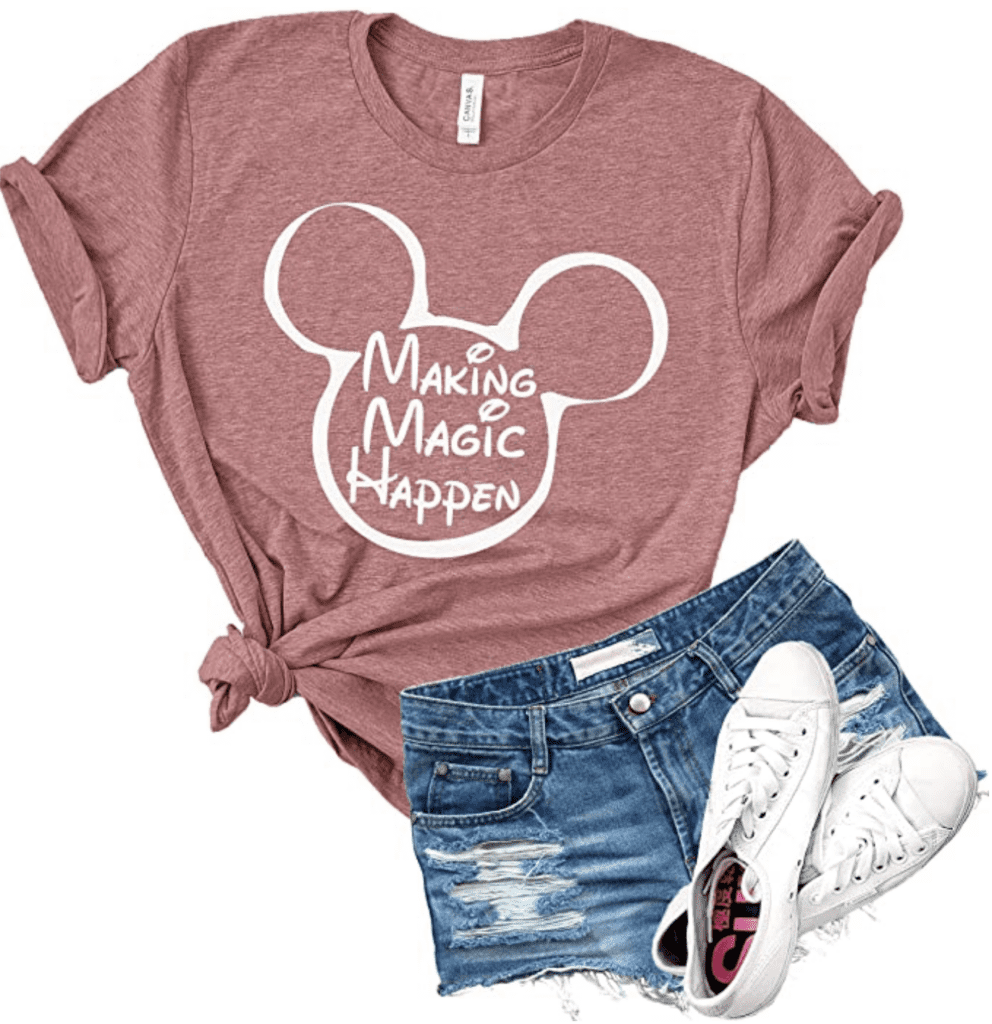 Last, but most certainly not least, we have a t-shirt that anybody can wear! It's a shirt made for families, kids, friends, partners, and everybody else. If you're a Disney fan, then you're a fan of making magic happen everywhere. That's the Walt Disney way, after all. So, get yourself one of these timeless graphic tees with great typography and the Mickey Mouse shape that we all know and love.
Do you have a favorite shirt inspired by The Walt Disney Company and the family of Mouse House theme parks? Let me know in the comments or on social media!
Have a magical day!
👇 Some Disney Shoes to Go with Your New Shirt 👇
Share this post on your Facebook, Twitter, or Pinterest page with the easy share icons below.
Neal Tucker is one of the world's most engaging Disney influencers, with thousands of views and responses across his blog, podcast, and social media profiles every month.
Get started with more D Is For Disney content here