This is the ultimate guide to My Disney Experience. The app that ups the game and makes every Walt Disney World theme park visit better than the last. Discover everything you need to know below.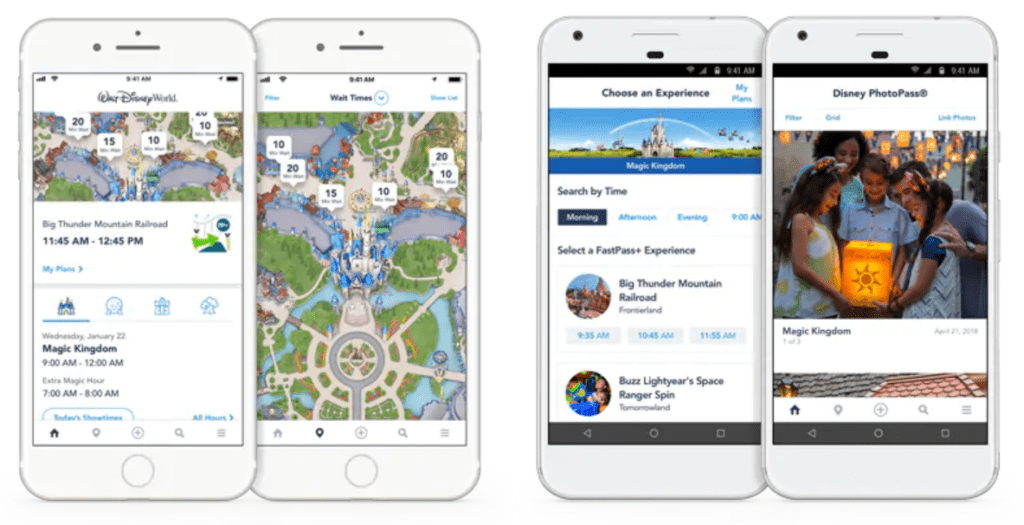 Among the many things that Disney is known for, their investment in technology is one thing that has kept the public going back to the theme parks. 
Disney loves using technology to make every theme park visit smooth, enjoyable, and memorable. People appreciate it, which is why Disney theme parks around the world are always packed all year round.
One of their innovations is My Disney Experience.
What is My Disney Experience all about? Just like its name, My Disney Experience makes your overall Disney experience the best one yet. It puts together all you need for your visit in one place for easier access.
Read and use this guide to learn how to have the best Walt Disney World Resort visit with My Disney Experience.
People swear by it!
What is My Disney Experience?
My Disney Experience is an all-access tool that allows you to plan your Walt Disney World vacation as much as possible.
From your accommodation to the attractions you plan to visit, My Disney Experience helps you manage your time so you can fully enjoy your trip.
The best thing about this feature is that everything you need can be accessed through your computer, phone, or tablet. It has both a website and an app.
Gone are the days where you have to do things manually.
Going to Walt Disney World with a group? You can share your plans with them too by using this tool. It allows you to synchronize your trip plans with your family and friends.
Disney initiated My Disney Experience as part of their MyMagic+ program. MyMagic+ uses technologies such as FastPass+ and MagicBands to make trips more convenient for theme parkgoers.
Note: A sort of Disneyland equivalent is MaxPass. Read the full guide here.
What My Disney Experience Can Do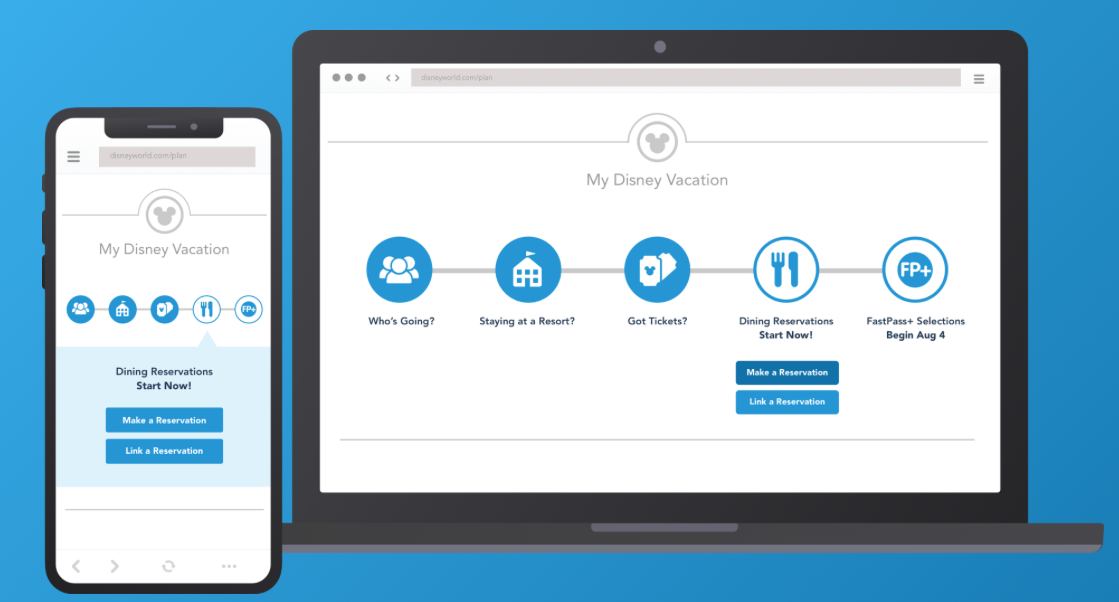 There is so much you can do with My Disney Experience. From the planning stages to the actual trip, you can use this to make your vacation amazing.
The My Disney Experience website and app both have different features. You can check the special things you can do with each in the later parts of this article.
Here is an overview of what to expect with this planning tool.
Overall Planning
The number one thing you can do with the help of My Disney Experience is to plan your entire trip.
While it is up to you on how you plan it down to the last detail, it lets you plan activities that are scheduled and time bound such as dining reservations, show times, and even attraction visits via FastPass+.
Passes
In order for you to enjoy the theme park, you need to have tickets and passes. Some activities require additional tickets, aside from your park pass. 
See our complete guide to the new Disney Park Pass System.
You can link these passes to My Disney Experience so you have everything in one place,
Dining
Walt Disney World is filled with must-visit restaurants. You may have a hard time getting a spot in these restaurants, especially if they are always fully booked so you should reserve ahead.
My Disney Experience allows you to link your Advanced Dining Reservations. You can also check restaurant availability there and make your booking.
For last minute plans, you can also check day-of reservations and restaurant menus to help you decide.
Attractions and Activities
First-timers may get overwhelmed by how big Walt Disney World is. It has activities, attractions, dining, recreation, shopping, and more.
You can find all these in the app and decide which you want to check out and do.
Times Guide and Park Hours
You need a Times Guide and Park Hours so you won't waste time going to attractions to check availability. The great thing is that these are readily available in My Disney Experience. You can check schedules with just a few taps.
Park Map
Now that you know what activities you can try and their availability, your next problem would have to be getting there. The app has very detailed maps that are easy to navigate.
You won't get lost finding your way to the nearest bathroom.
Wait Times
One thing that people dislike is the waiting part. Because people flock to these attractions, you have to wait in line for your turn.
The tool shows you wait times and even details about attractions such as age restrictions, thrill factor, and accessibility.
Accommodations
Staying at the resort? Link your reservations to My Disney Experience so you won't have to rummage through your things to get your details. 
Disney also allows you to send in special requests such as transportation and room view preferences.
FastPass+
Disney came up with FastPass+ to help theme parkgoers who want to cut waiting time for attractions.
If you don't know what it is, FastPass+ is an upgrade that lets you go on a special queue that has shorter waiting times.
You can prepare your 3 FastPass+ experiences ahead of time through My Disney Experience.
The app also allows you to change your FastPass+ schedule and book more once you've used all 3.
MagicBands
MagicBands are not just Disney accessories! They also serve as your access to everything.
The Disney World MagicBands have RFID technology you can use to check in for dining and resort reservations.
You can order customized Magic Bands for yourself and your theme park buddies using the app and have them delivered to your address.
Photos
Photos make our trips memorable and we keep them as mementos for the years ahead of our cherished memories.
Get hold of your photos easier as My Disney Experience collects them for you!
Easily find your photos taken by PhotoPass photographers on your PhotoPass account on the My Disney Experience website.
Are you getting the Memory Maker package? Have your photos synced to your phone app, edit, and share away.
Wish List
Keep track of the activities, attractions, and restaurant in Walt Disney World that you plan to try and visit through the Wish List feature.
From there, you can trim down the list depending on your schedule for the day.
Why should you use the My Disney Experience app?
If you want to make the most out of your Walt DIsney World visit, you should plan ahead all your activities. This is especially true if you've never been or are going for the first time in a long time.
With everything you need in one place, you can enjoy your day at the happiest place on earth.
My Disney Experience Account
To be able to enjoy My Disney Experience, you need to have your own account. From there, you can customize and do your planning.
How To Create A My Disney Experience Account
Creating one is fairly easy and can be done in just a few minutes.
Tip: If you already have an existing account for any Disney site, you may use that. Just input your ID and password and you're good to go. This account can be used for many things, such as the Disney Park Pass System.
Go to StartYourDisneyExperience.com to create your account.
Select Create an Account and key in your personal information. Make sure to put an email address and password that you can easily remember.
You also have to share important details such as your name, address, and date of birth.
Choose 2 security questions in case you get locked out of your account.
After which, accept the terms and conditions and create an account.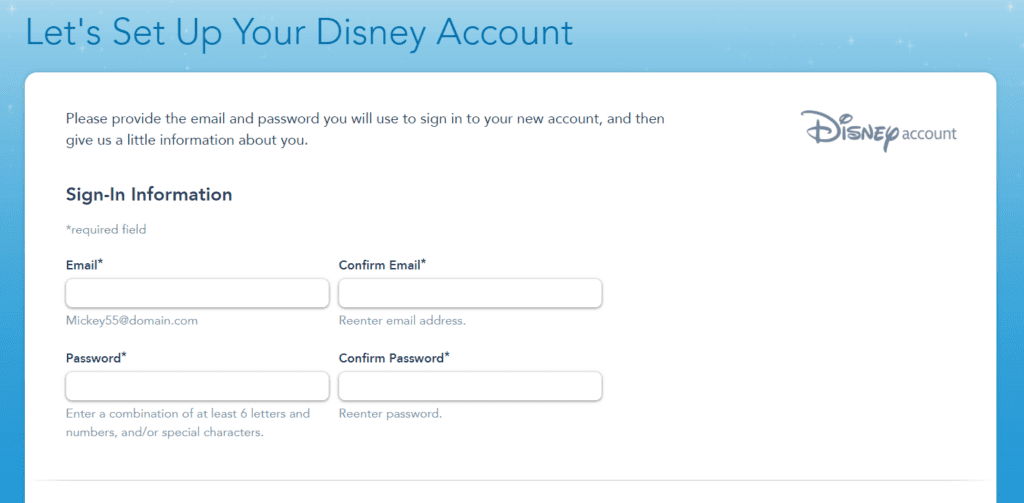 With your account in place, you can now start linking, syncing, and planning your trip!
What if I have multiple accounts on Disney sites?
Sometimes we make many accounts because we either forgot our passwords or even the existence of our previous accounts. This may pose some problems when you create a My Disney Experience profile.
To fix this, you can reset your password and use your existing accounts. Disney also has a customer service phone number: (407) 939-4357. Call the hotline to get in touch with a representative that can assist you right away.
Customizing My Disney Experience Accounts
More than just making plans, you can also customize your own profile at My Disney Experience. By adding an avatar, you can make your account more personal.
Click the menu on the top right of the site and choose My Account and My Profile. Update your About Me Section and add your favorite Disney character as your avatar.
Connecting With Friends And Family Through My Disney Experience
When visiting Walt Disney World with children, chances are, the adults in the group make the plans, even if the kids ultimately make most of the decisions! 😉
If you're coming with friends and family, My Disney Experience helps you synchronize your plans for the trip. The tool lets you connect with theme park buddies who have their own My Disney Experience accounts. 
To get started, just go to My Account and select My Friends and Family. Add your buddies like how you add friends on social media.
You can share trip details, schedules, add even reservations. Planning together will help you have a trip that everyone will enjoy.
To book a day together at reopening, you'll use the Disney Park Pass System.
My Disney Experience Website
The My Disney Experience website is a portal you can use in building your travel itineraries and plans before your big day. Using it is completely free of charge.
You can start preparing for your Walt Disney World visit at home by going to the site. For the on-day trip, you can rely on the My Disney Experience smartphone app.
The website is easy to navigate and you can make your plans in no time. Here is a guide on the sections of the site and what you can do in each.
My Itinerary
You can see a daily breakdown of your vacation in the itinerary section. It's actually the most basic page when planning your trip.
Here you can add your resort accommodation, Advance Dining Reservations, and shows and attractions you plan to try including meet-and-greet activities. You can also find FastPass+ details for your rides.
My Reservations and Tickets
For a quick reference on your dining and hotel reservations, go to the My Reservations and Tickets section. 
The page has all the details and confirmation numbers of the hotels and restaurants you booked for your trip. You can also find your FastPass+ and Memory Maker package tickets here.
FastPass+
The FastPass+ page gives you the information you need about your FastPass+ selections. While some details are readily available in the My Reservations section, this page allows you to make changes and add new selections.
My Profile
Found under the My Account menu, the My Profile page bears your personal and account information.
You can customize how you can sign in, the security questions you chose when you registered, payment methods, and the memberships you have. Your contact information can also be found here.
My Family and Friends
Going with friends or family? Connect with them through the My Family and Friends section. Just follow the instructions listed in the earlier part of this article to link your My Disney Experience account with your travel buddies.
My Wish List
When in the early stages of planning, the My Wish List section helps you make a list of attractions, restaurants, and tours that you want to try. You won't have to go over the list of establishments again if you forgot the restaurant where you were hoping to eat.
MagicBands and Cards
Visit this page to monitor the MagicBands and RFID cards under your name. If your MagicBand gets lost or stolen, you can easily deactivate it through this page. In case you find it again, you can do your reactivation here too.
Annual Passholder
Disney gives Annual Passholders exclusive perks such as limited offers, discounts, and entry to special events. Do you have an Annual Pass? Don't miss out on all the fun and special offers and activities here.
My Photos
Easily browse and download your photos and videos taken by Disney PhotoPass photographers on this page. Disney organizes these photos by theme park and date so you can navigate quickly.
Shop Online
Forgot to buy a special Disney Parks item during your trip? Shop online and add to cart! Just go to the Shop Online section which will direct you to the Shop Disney Parks page.

My Disney Experience App
Disney created the My Disney Experience app for guests to have easy access to their reservations, itineraries, and park details. Since it is accessible through a tab or a mobile device, you can use it conveniently on the day of your trip.
Where can I download the My Disney Experience app?
You can find and download this handy app through your phone's app store. It is available in both Apple Store and Google Play and can be accessed by Apple and Android devices.
Why should I use this app during my Walt Disney World trip?
The app is a very handy tool that will make your visit smooth. You can view all the plans you prepared beforehand and keep your reservations in one place.
Aside from holding your itinerary and bookings, the My Disney Experience app also provides resource materials to help your trip such as a list of attractions, waiting times, and maps, to name a few.
You don't have to get hold of physical passes or guides nor do you have to ask for directions. Everything that you need is simply in the app!
Be sure to download the app and sign in before you start your vacation.
Tip: Disney offers complimentary wifi access so you can save your mobile data.
My Account
Just like the website's My Profile, the app's My Account section contains basic information about you including your name, personal details, and the MagicBands and Cards linked to your account.
Property Map Guide
One of the first things you will see when you open the app is a detailed map of Walt Disney World.
You will find this very useful in your trip because it indicates the entertainment activities, attractions and the corresponding details and waiting times, restaurants, meet-and-greet areas, and even restrooms.
It also has information for guests, accommodation choices, and other recreational activities, such as shopping places and spas.
Today's Showtimes
Under Park Info & Entry is Today's Showtimes where you can find the schedule of things you shouldn't miss at Walt Disney World. You can find the showtimes for shows, parades, nighttime spectaculars, and the most anticipated fireworks show.
Park Hours
Need basic info about the operating hours of the park? You can find your answers here. Disney also provides you a list of attractions and shows that are unavailable due to renovation or refurbishment.
My Tickets
Guests don't need to keep physical tickets – which may sometimes get lost, yikes!
By going to the My Tickets section of the app, you have an overview of the tickets linked to your account. You will also find ticket details to remember such as expiration dates and dates when you can use your tickets.
Buy Tickets
You can save time by buying park tickets via the My Disney Experience app. The developers of the app made it easy for guests to buy tickets through a step-by-step process.
Get FastPass+
Have access to FastPass+ information in this section of the app. You can check and change your FastPass+ selections and find FastPass+ availability.
Reserve Dining
Disney highly recommends parkgoers to make reservations in restaurants to ensure seats. This part of the app lets you view restaurants that can accommodate your group size on the dates you indicate. You can make reservations before your trip or even day of, depending on the availability.
Order Food
Cut down waiting time by ordering quick service food through the app. Options may be limited. This is great for last-minute foodtrips.
Link Dining
Can't find your dining reservations in the app? Link it by keying in your dining confirmation and the last name of your reservation. Viola! You can then access your dining reservations.
Fun Fact: You can also input reservations done by your park buddies.
Link Hotel
Want to put your accommodation reservations in the app? Use the Link Hotel options that functions similarly to Link Dining. You only need to give your confirmation number and the last name of the person who made the booking.
Call to Book Hotel
Want to call your hotel? Click this button to be directed to Disney's hotel reservation center so you can talk to a representative
My Photos
Aside from the website, you can view and download your PhotoPass photos through the app. This makes it easier for you to edit and share them to your friends on social media.
Buy Memory Maker
PhotoPass photos usually come with a watermark. If you prefer otherwise, get the Memory Maker that lets you download watermark-free photos and videos. This is similar to MaxPass at Disneyland.
You can get the Memory Maker for $199 but better check the pricing as it may be subject to change. If you already have it, just link it to your My Disney Experience app.
Find Photographer
Disney made sure that PhotoPass cast members are scattered around Walt Disney World to take snapshots of your trip. You can easily locate them by using the app's Find Photographer feature.
Tip: Keep in mind that Cast Members will not be able to use your personal cameras at reopening, due to illness concerns.
Link Photos
When PhotoPass cast members take your photos, you have to provide them with details for your photos to show up in your My Disney Experience account. To do this, they must scan either your MagicBand of the PhotoPass Code which you can find in the app's Link Photos section.
Spotlight
Disney always has something new for us. Check out Spotlight for exciting promotions such as new rides or must-try restaurants.
A Guide To MagicBands
Have you seen photos of theme parkgoers wearing colorful bands that they use for attractions? These accessories are called MagicBands – waterproof bracelets that carry RFID chips.
Instead of paper tickets, MagicBands serve as entrance and access to rides, attractions, and even reservations.
Are MagicBands free of charge?
Guests staying at Disney Resort Hotel or Annual Passholders get a complimentary MagicBand. Disney even ships MagicBands to your address before your trip.
You can also buy one upon purchase of park admission tickets, and get your hands on these colorful wristbands through the shopDisney app.
There are also MagicBands with Disney characters available! 🙂
*In June 2020, Disney announced that they will not be providing free MagicBands to Disney Hotel guests. This starts January 2021.
What MagicBands Can Do
MagicBands are power-packed bracelets that are capable of doing a lot of things. Here are some things you can use your MagicBand for:
entering the theme park
unlocking your Disney Hotel room door
charging food and shopping bills to your hotel room during your stay
going through FastPass+ entrance points
linking PhotoPass photos to your My Disney Experience account
A Guide To FastPass+
We have been talking about FastPass+ and FastPass+ selections but there is still more to know about this Disney theme park feature.
As you may know, FastPass+ allows you to cut waiting time for attractions by using a shorter special queue. Before, actual tickets were used for FastPass but they have been replaced with the electronic FastPass+.
How To Make FastPass+ Reservations
The reason why you can cut waiting time is because FastPass+ reserves your schedule for the certain attraction. With that said, you need to make reservations beforehand so you can get on that ride without having to line up.
How do you make reservations? You can do this through the My Disney Experience website or app.
First, you need to buy your park admission and link it to your account. After which, you are given the option to choose 3 attractions you can use the FastPass+ for and your preferred schedule.
Tip: Not all attractions accept FastPass+.
As one of the perks of staying at the DIsney Resort Hotel, you can book FastPass+ reservations 60 days before the schedule. This gives you more time and availability.
If you're not staying there, you only have a lead time of 30 days to make your booking.
Note

: Rules and guidelines have changed for reopening. Read them here.
Using FastPass+
Now that you have your FastPass+ selections, the next question is how to use them. You just simply have to go to the attraction to claim your FastPass+ reservation.
FastPass+ only reserves you an hour so you have to show up within that hour-long time frame. Once you're there, just find the queue for FastPass+ and enjoy your ride.
If you're there early, the cast members in-charge can let you in 5 minutes before your reserved time. Should something happen and you arrive late, you can only use your reservation 15 minutes after the allotted time. This is called the grace period.
Remember that you can only use your FastPass+ on the designated day. It will expire once the day ends, just like Disney Park Pass System reservations.
Did you know that you can have more than 3 FastPass+ reservations?
Once you have fully used up all of your FastPass+ reservations, you can still book more. Note that additional FastPasses+ only work once you've consumed all 3.
After finishing your third ride, go to a FastPass+ kiosk or better yet, open your My Disney Experience app and book another one.
Once you've used your fourth booking, you can get another one and so on, like with MaxPass at Disneyland.
FastPass+ Kiosk Locations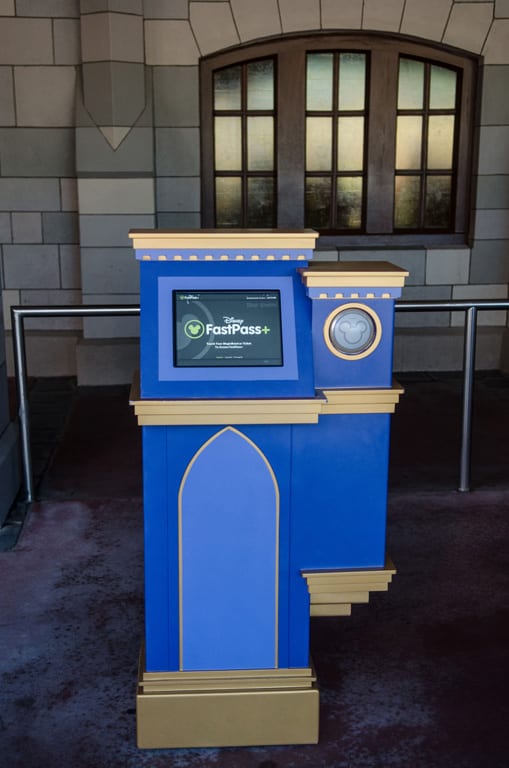 You can find FastPass+ Kiosks around Walt Disney World. These kiosks help you modify existing FastPass+ reservations or add new ones.
You can find these kiosks in these areas:
Magic Kingdom
Adventureland Breezeway near the Diamond Horseshoe
Mickey's Philarmagic exit
Pete's Silly Sideshow in Storybook Circus
waiting area of Stitch's Great Escape
Jungle Cruise entrance
Buzz Lightyear's Space Ranger Spin
Disney's Hollywood Studios
Muppet•Vision 3D entrance
Main Tip Board near the end of Hollywood Boulevard
Toy Story Land entrance
The Twilight Zone Tower of Terror entrance
EPCOT
Future World East Breezeway
Future World West breezeway
International Gateway
Disney's Animal Kingdom
Dawa Bar
Island Mercantile
Expedition Everest
My Disney Experience: Your Ultimate Walt Disney World Buddy
With all the things you can do with My Disney Experience, it is no doubt a Disney lover's ultimate Walt Disney World buddy.
From making preparations to last-minute changes and on-day references, both the website and app will help you make your vacation smooth and convenient.
On your first or next visit to Walt Disney World, don't forget to use My Disney Experience!
Check out the Disney Parks Moms Panel video below. You can also see my interview with an actual Disney Parks Mom Panelist!
2020 Reopening Updates
With the reopening of Walt Disney World, Disney announced some updates on the theme park and the My Disney Experience App.
Sanitizer Locations
Disney added another precautionary measure to ensure everyone's health and safety. By using your My Disney Experience app, you can locate the nearest sanitizer station.
Simply go to Guest Services, check the list and choose Hand Sanitizer Locations. This makes it easier for guests to keep their hands clean by frequent sanitizing.
No More Free Magic Bands
In June of 2020, Disney announced that they will stop giving free MagicBands to Disney Hotel guests starting January 2021.
Instead of these colorful bands, guests can use their smartphones through the My Experience App to do the things MagicBands do such as opening hotel rooms.
For Disney fans who still want to get their own MagicBand, they may purchase one at a discounted price.
Cancelled FastPass+ and Dining Reservations
Because the theme park temporarily ceased operations, some guests had to cancel their vacation. Disney is currently working on rearranging reservations for their guests as we speak.
In their process of doing so, Disney cleared all FastPass+ and dining reservations for the year. This is also a step in coordination with their efforts to reduce park foot traffic for safety reasons.
Keep Reading
Learn how to book your trip at reopening with the Disney Park Pass System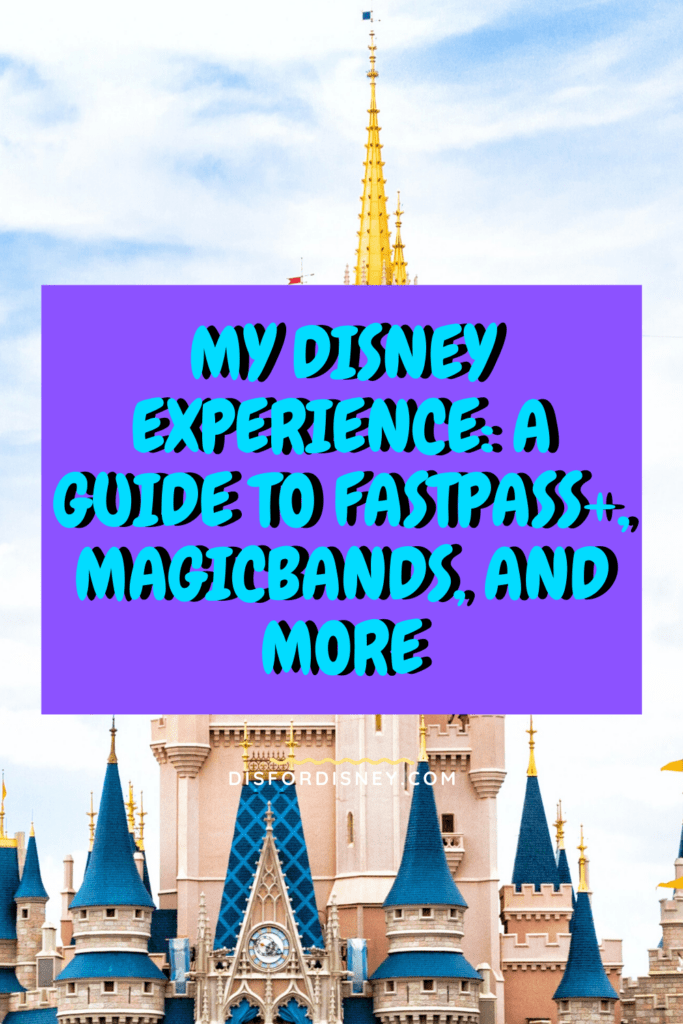 Share this post on your Facebook, Twitter, or Pinterest page with the easy share icons below.
Neal Tucker is one of the world's most engaging Disney influencers, with thousands of views and responses across his blog, podcast, and social media profiles every month.
Get started with more D Is For Disney content here